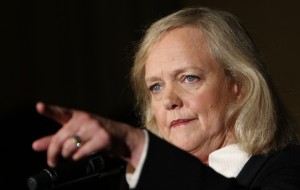 Following a year of tribulations, HP finished 2012 on a high at its Discover 2012 conference in Frankfurt with what it referred to as its biggest storage announcements in over a decade.

Last year was an interesting time for HP. With revenues over $120bn, it remained the highest earning technology company in the world. But other figures weren't quite as complementary.
With profits continuing to drastically slide following the general global drop in PC sales, and mass job cuts, it was generally a year of negative news headlines for the IT giant.
The lead up to HP Discover in December was no different as the company took an $8.8 billion charge as a result of what it called serious accounting improprieties that occurred at UK software company Autonomy before it acquired the firm in 2011. Taking the charge into account, HP suffered a $6.9 billion loss in its fourth fiscal quarter.
Meg Whitman, who was named CEO of HP in September 2011, alluded to the company's dramatic year with sarcasm during her keynote address at the conference. "It's been a quiet year," she said. "Not much going on really at all."
She added with more seriousness: "It has been an incredible year for this company. There have been a lot of challenges but there have also been a lot of victories.
"Despite what you may have heard, innovation is alive and well at HP. Our culture of great engineering and innovation is a tremendous asset and it's not that we don't have enough innovation at HP, it's that we need to work harder on commercialising that innovation and getting those ideas to market faster. That's one of the things we're focusing on in the next 12 months."
Whitman also emphasised that HP remains the number one or two provider in "virtually every market" it competes in.
"We are very proud of our products, software, services and solutions that we now offer. In fact, I think we have the very best product, service and solutions offering that we've had in many years at this company.
"HP is the only company that brings customers devices, hardware, software and services from the enterprise to the consumer. We will help customers build on a platform in an agnostic way providing them with the choice and flexibility that they demand and need."
Leading a revolution
Thankfully for Whitman and HP, the biggest talking point at the conference was a positive one. Namely, HP revealing the most significant updates to its storage portfolio in over 10 years, which it boldly claimed will lead a revolution in data storage.
It attributed this revolution to the use of a modern single storage architecture to provide 'polymorphic simplicity', which is a new concept that enables a single-system architecture to exist in several forms whilst retaining common data services for block, object and file applications. The concept also calls for optimisation for both hard disk drives (HDD) and solid state disks (SSD).
The first announcement centred on the latest result of HP's acquisition of 3PAR. The new HP 3PAR StoreServ 7000 range, which HP dubbed the industry's only midrange quad-controller platform offering tier one storage availability and quality-of-service features at an easy entry price point for organisations.
Supporting both block and file data services, the system is available with HDD and SSD or as an all-SSD configuration capable of performing more than 320,000 input/output operations per section, a number HP claimed was 2.4 times that of a similarly priced competitive array.
The second portfolio expansion to be revealed was HP StoreOnce 2000 and 4000 Backup with support for HP StoreOnce Catalyst software.
These new models provide efficient data movement and high-performance deduplication to reduce data protection costs in remote sites and data centres, and perform backup operations up to three times faster at a 35 percent lower cost than the closest competitive system, HP said.
The final product to be unveiled was HP StoreAll Storage, a highly scalable platform for object and file data access, providing a simplified environment for big data retention and cloud storage that reduces the need for additional administrators or hardware.
HP StoreAll Express Query was created by HP Labs, the company's central research arm, and is a metadata database that HP claims will allow clients to conduct search queries 100,000 times faster than previous file system search methods.
Whilst HP and Autonomy may be at war in the financial and governance departments, it was clear at the event that HP remains enthusiastic when it comes to Autonomy's technologies. Integration with HP Autonomy Intelligent Data Operating Layer (IDOL) offloads processing tasks to HP StoreAll so that analytics can be performed with more current data whilst using less compute hardware.
"If you look at what has happened [with Autonomy], there's really some financial accounting that needs to take place," said David Scott, SVP and GM, HP Storage.
"Very importantly, we have tremendous belief in the Autonomy technologies which really are far ahead in terms of meaning and context-based analysis than anything else in the industry today."
According to Scott, the "data revolution" that HP cited is bringing full tier one functionality down into the midrange price points.
"For 25 years there has been no architectural change in the midrange from a dual controller strategy. It is a revolution because before, if somebody wanted to have tier one solutions, capability, mission critical support and the ability to maintain application service levels if a controller failed, they had to buy expensive tier one storage," he said.
"Now it's available for the masses, including small and medium sized businesses, and for deployment throughout enterprises. You don't have to compromise – you can have midrange affordability with full tier one mission critical capability."
Information optimisation
HP also used the conference to announce new and enhanced information optimisation solutions to help enterprises manage, understand and act upon the variety, velocity and volume of organisational data.
The company referred to "return on information" as the value that organisations generate from their investments in information solutions, services and resources by gaining insight from their data to make better and quicker decisions.
It referred to new research conducted on its own behalf which found that nearly 60 percent of business executives report that their organisations are not equipped with the right solutions to gain insight from big data, and only 10 percent of executives said their organisations currently incorporate unstructured data into their enterprise insights, processes and strategy.
"Over the next several years, return on information will become the single most important measure of success for organisations," said George Kadifa, Executive VP, Software, HP.
"HP will continue to invest in and develop solutions and services that harness the volume, diversity and unpredictability of information to deliver real value to our clients."
HP expanded its HP AppSystems portfolio to offer improved customer choice and expanded capabilities of HP Converged Infrastructure with Apache Hadoop, HP Vertica Analytics Platform and Autonomy eDiscovery environments.
The newly enhanced HP Converged Storage portfolio eliminates administrative complexity, reduces costs and accelerates information insight in virtualised, cloud and big data environments, HP said.
Growth on the cards
Speaking of the storage industry in general, Scott was optimistic of growth in 2013 following a dip in 2012.
"We detected some slowing of the growth rates of storage that have been reflected in the latest IDC projections for growth rates that came down fairly dramatically. EMEA remains weak because of some of the economic conditions and the US is also in uncertain territory right now. China may be started to recovery but it's not clear," he said.
"So there's a lot of macro-economic uncertainty that is impacting the storage business. But on the whole, what I think you tend to see in data storage is that this continual explosion in information will mean that it is a short cyclical period of time when the growth rate is depressed and you'll start to see a reacceleration of growth, possible towards the second half of 2013."
With the Discover 2012 conference further highlighting HP's clear intent to focus on the storage market going forward and 70% of HP's revenue attributed to infrastructure, along with the general continuation of decline in the PC market, the case for HP's investment in the latter continues to be questionable.
Despite these factors, however, it remained adamant at the conference that HP's future still includes the manufacturing of personal computers.
"We as a company believe that we are in fast growth markets in areas like storage and networking and some areas of the server market that we can take advantage of. However, HP will continue to be a strong PC company because we generate massive cash flow and we are a big company and can continue to take market share in those spaces," Scott said.
"The company is balanced and I think a lot of customers value HP as a complete IT infrastructure company from desktop all the way through to data storage."