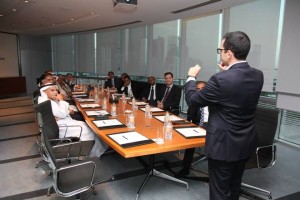 As a prelude to CNME's Network World ME Awards 2014, delegates from Dell partnered with CPI to host a roundtable on network virtualisation at Jumeirah Emirates Towers on 24th March.
Key issues that were discussed included factors driving the need for virtualisation, challenges it raises, and how virtualisation operations models can be brought to networking.
Basil Ayass, Marketing Director, Dell, Middle East and Africa, got things underway with an overview of how Dell sees virtualisation playing a role in future networks, namely in storage virtualisation and the increased importance of workloads.
"We need to look at the transformation process of virtualisation; we will be moving to network-as-a-service, eventually," Prasanna Rupasinghe, Director, IT and AV, Kempinski Hotel, Mall of the Emirates, said. "We want to virtualise fabrics between the core and edge stacks. It is important to reduce the complexity of networking. The quicker you can do functioning, the easier it will be to differentiate a business via interoperability."
Joseph Aninias, Head of IT and Telecom Services, UOWD , highlighted a key problem with updating network infrastructure, and the most important player in delivering it, "Often as CIOs, we focus so much on the infrastructures we're implementing, we forget the person who matters most: the end user," he said. "In most cases, by the time we've finished updating heavy load infrastructure, it's outdated. We need to consider how the infrastructure will drive the business and how we deliver the service to the end user."
Muhammad Javeed, Head of IT, Paris Sorbonne University, Abu Dhabi, chose to focus on the ability of a network to perform in a worst case scenario, "Fourth generation internet has just begun, but we have to ask ourselves, 'Is this part of the world ready for it?'" He said. "Mature infrastructure is not always enough, it is always crucial that we consider what will happen if the network is hit with a disaster. Last week on campus we had a networking catastrophe, and what is essential is that the network can still function if that happens."
Shabbir Ahmad, Regional Sales Director, Networking, Dell EMEA, drew attention to Dell's vision for network virtualisation, "One key thing we can bring to the market is disaggregating hardware from the software layer," he said. "We are introducing a fabric concept within the data centre, and we are one of the first vendors to introduce VMware virtualisation. Open flow-based SDN switches are pushing traditional networking vendors out of their comfort zone, but we are in step with this change."
Ahmad went on to emphasise the importance of consistency along the network, "Once the network layer is virtualised, it becomes part of your network infrastructure," he said. "We had fantastic blade and rack servers but when we started virtualising server and storage layers we had to fulfill bandwidth requirements. We have to ensure quality is consistent along the network."
All-in-all, the roundtable served as an open forum for IT leaders to share their anxieties over virtualisation, and the concerns their specific organisations have faced with the trend.