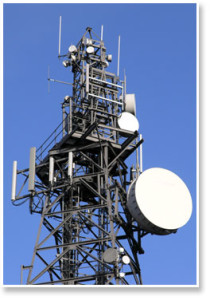 Small cells are miniature cellular base stations. They provide a low-power signal much closer to mobile users than traditional macro networks, resulting in better voice quality, higher data performance and less toll on batteries.
Small cells encompass a broad array of radios, including Wi-Fi access points, that are smaller and less expensive than the traditional macro cells that cover whole neighbourhoods. They can make more efficient use of existing frequencies and cover areas, such as indoor spaces, that are hard to reach with macro cells. This mission will become increasingly important as demand for network capacity grows along with consumer and business use of mobile data, a trend that some say will constrain consumers' and workers' mobile experience within a few years.
Types of small cells include femtocells, picocells, metrocells and microcells—broadly increasing in size from femtocells (the smallest) to microcells (the largest). Any or all of these small cells can be based on 'femtocell technology'—the collection of standards, software, open interfaces, chips and know-how that have powered the growth of femtocells, according to The Small Cell Forum, the biggest cheerleader of the technology.
Small cells can be used in homes, public spaces and offices to offload traffic from mobile networks. Rolling them out in offices will open the door for dedicated voice capacity, mobile unified communications, local switching of voice traffic and other context-aware services.
Enterprise small cells have become a hot property because of the growing popularity of smartphones. Qualcomm and Cisco Systems have started developing small cells customised for enterprises, which will be able to use the products to improve indoor wireless network coverage for their employees. Ericsson last year announced the Radio Dot System, a small cell that has an Ethernet port, weighs 300 grams and will start shipping later this year.
Mobile operators are looking at smaller cells and Wi-Fi to better cover indoor spaces and crowded areas. "There are two reasons why operators may introduce small cells: to enhance coverage and decrease blackout spots in a cost-effective way, or as a means of cost-effective capacity improvement in the exact location where the capacity is needed," says Saleem Al Balooshi, Executive VP of Network Development & Operations, du.
These are both dependent upon the status of the operator, in terms of their traffic profile and growth, coverage, mobile penetration, the technologies deployed or in the process of being deployed and, last but not least, the level of handset penetration on 2G, 3G and LTE technologies. Depending on all of these factors, operators will either be extremely aggressive in deploying small cells, or they will roll them out in phases, he adds.
Amer El-Saigh, Head of Networks, Vodafone Qatar, believes small cells will experience an exponential growth with a slow start at the beginning while operators find out best deployment strategies and ironing out unforeseen issues that will only come alight when in deployment. "It is worth noting that Vodafone Group is heavily involved in small cells deployment in many of its operations worldwide."
Dory Chakour, Engagement Manager, Ericsson, considers small cells as part of the heterogeneous networks vision aiming at building the most efficient coverage and capacity solutions for operators. "Operators in the Middle East are at different maturity levels from a technology point of view," he says. "Some operators will need small cells deployment in the near future while others need to deploy macro MBB coverage and capacity as a first step."
From the network operator perspective, deploying small cells can typically result in a significant increase in capacity with a typical gain of 6-10 times more than traditional methods. "Small cells offer cost effective capacity and coverage, with better cost per bit, and deliver improved quality of experience for hotspots in both indoor and outdoor locations. They have the ability to allow network operators to deliver capacity and coverage directly and quickly, with the result of improved user behaviour due to the end-user proximity," says Al Balooshi.
Chakour from Ericsson echoes a similar opinion, "The small cells will bring improved coverage and capacity to the operator's network," he says. "This will enhance the voice quality and more importantly the App Coverage providing an indicator of the mobile broadband experience. App coverage is the probability that the network will deliver sufficient performance to run a particular application at a quality level acceptable to the user."
Though there is a growing interest in small cells, setting up these radios and gleaning the promised impact from them will be harder than just buying equipment and finding spots that need more capacity.
Adding small cells to mobile networks made up of full-sized base stations should help to fuel more voice and data calls, but outdoors, linking those dispersed cells to wired networks presents its own problems.
Connecting a high-capacity data line to a cell mounted on a lamp post or a telephone pole isn't as easy as wiring up a cell tower. Power, security and wiring are all harder to arrange, vendors and analysts say. The problems are unique to outdoor small cells, versus indoor ones that tend to have easy access to wiring.
"The smaller cell radius requires stations to be closer to the users, right down to street level. This can mean installations on building fronts, street lights or traffic poles, and so on. There are hanging rights and municipality permits to take into account, such as form factor requirements on appearance, size and weatherproofing, for example," says Du. Outdoor small cell deployments must not create injuries to public, must not be prone to malicious physical attacks or unauthorised access to the IP network, and they must be able to secure power. They must also fall under the plug and play category, with automated provisioning, with the ability for remote monitoring and troubleshooting.
"In the same way small cells indoor are connected, the outdoors cells should be part of the fully coordinated networks which consist of both small cells and macro cells working together in a coordinated way across all technologies," says Chakour.
It's just one of several challenges facing carriers that would follow the small-cell star to a future of mobile abundance, analysts said. Others are finding room to mount the cells, getting local approval for the new street clutter, and preventing interference with the larger "macro" cells on towers and rooftops. But backhaul is such a serious problem that it's forcing mobile operators to change how they plan networks, according to Ed Gubbins of Current Analysis. They used to find backhaul after putting up cells where they were most needed, but now they have to plan both together. Some carriers are even looking for backhaul sites first, he said.
What the vendors have started pitching is wireless backhaul, which is available in several forms over different frequency bands. All these technologies can deliver enough speed to carry traffic to and from a small cell, and they can be deployed at cell sites where wired connections can't be set up or would be too expensive. Most small cells are indoors today, but as carriers deploy them outdoors, 75 percent of those cells will use wireless backhaul, according to Infonetics Research.
To deploy wireless backhaul, service providers still need space and power for the equipment and approval from the local planning authorities. But when it comes to the connections themselves, no fiber or copper needs to be strung out to the site. All that's required is a clear line of sight to another radio that is plugged into a wired network, or a non-line-of-sight wireless path that can find its way around whatever obstacles may be in the way.
Look for small cells to start easing mobile bottlenecks first in dense urban areas, where demand is usually highest. The first of those will probably feed off wireless links to the nearest large cell, taking advantage of its fast fibre connection, according to Infonetics. Those wireless links to small cells are likely to use a mix of high-frequency and low-frequency systems depending on the site, says Infonetics analyst Michael Howard. Where macrocells on building roofs don't have line of sight to small cells that are closer to the street, carriers may have to use sub-6GHz non-line-of-sight technology to get around corners.