Having taken over the Middle East business at the beginning of this year, Richard Noujaim, Managing Director, MEA, Arrow ECS, says partners can look forward to the distributor's proprietary cloud platform, ArrowSphere among other things in 2015.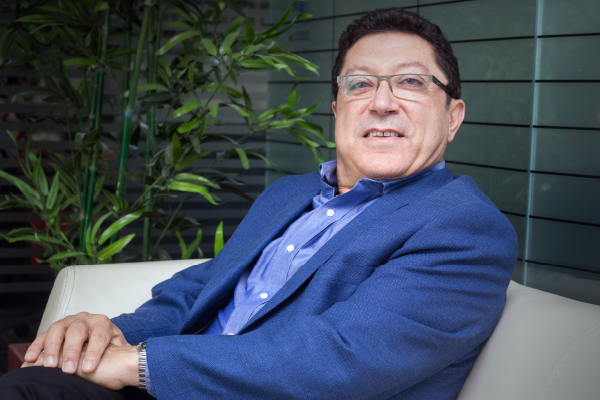 What are your expectations for Arrow's Middle East business?
I expect Arrow to reinforce itself as the premier distributor for storage, networking and security solutions in the region. We are a premium quality solutions-oriented distributor.
The value-added distribution space is increasingly becoming very competitive. How does the company stay differentiated in such a marketplace?
Understanding the competitiveness of the market, we have created our catalogue to be top-notch and continue to invest in developing excellent technical skills. Also, we have an unrivalled financial capacity compared to any other distributor in the region. We are able to invest and support the business.
When compared to other parts of the world, what are the opportunities you see in the Middle East region and what is driving the growth here?
In the Middle East, the factors driving growth are infrastructure projects, which are big in size and numerous in quantity. Security is another prominent growth driver. Tight information security is driving the demand.
What kind of value-adds can partners expect from Arrow?
As a premier distributor for our vendors, we provide extensive training to partners and to their end users. This is one of our specialties – we are a certified training centre for almost every brand we distribute.
We also have a very competent pre-sales and technically skilled sales team. This year, we have offered all our partners, who are major systems integrators in the region, an elegant way to benefit from cross selling. This is to encourage them to look at the rest of our catalogue and not only focus on parts of our offering. Through the incentive scheme we have created this year, they can benefit from the total relationship they have with Arrow. This is new and unique to us.
Are there plans to onboard new vendors to your portfolio?
Our priority is to do a good job with the vendors that we have. Onboarding new vendors is a regular process but there is more to gain by doing the breadth of our vendor portfolio as opposed to just doing the most popular products. Vendors are always disappointed to find that the distributors ignore the rest of the portfolio and focus only on the easy gains. We work on having a strong and healthy relationship with our existing vendor partners. One of our differentiators is that we do the full catalogue. I want to exhaust the potential on the existing brands before signing up new ones and disappointing the previous ones. Loyalty is the primary focus of Arrow.
And how do you develop partners' loyalty to Arrow?
We do this by serving and responding to partners' needs, which includes pre-sales, lead generation, overdue processing and financial support.
Which are some of your focus markets within the region?
Our focus markets are no different from the others – UAE, Qatar, KSA and Kuwait. We are starting to work in Egypt and Iraq as well. There is a lot of potential in these two markets.
What do you believe are the challenges for resellers today?
The main challenges for resellers are project management and getting paid in an orderly fashion.
The other challenge is finding a way into the cloud infrastructure and into software-as-a-service platform. In this regard, Arrow is betting hugely on ArrowSphere, which is our own cloud platform. It is our proprietary platform for distribution of cloud services, making it possible for our vendors and resellers to sell software and to sell IT as a service in the cloud mode.
Could you elaborate on ArrowSphere and other services that the company plans to launch in the region?
ArrowSphere has been operational for the last three years and we have over 1000 customers globally. One of our objectives for this year is to launch it in the region. And when we do launch it, it is going to be through our partners only. This is one way in which we benefit from Arrow's European worldwide scale. We will also be launching Arrow Support Service Contracts for end users. These services allow end users to have 24/7 high quality support on their installation, configuration, customer experience and on understanding how to use the technology that they have just bought with the support of expertise from Arrow Europe and Arrow EMEA. Partners can look forward to these two services within this year. We are only able to offer these services because of the support of Arrow Europe.
VSPEX Blue has been a game changer in the data centre solution as a software space, however the adoption levels are still fairly low in the region. What is Arrow's take on this?
We should not be despondent about the slow approach to take up VSPEX Blue technology in the region. I believe 2015 will mark VSPEX Blue move from a niche category to one that delivers real business value, reaching new levels of deployment as organisations take the steps required to embrace it.
Trend Micro Deep Security delivers automated and highly scalable cloud security already selected by thousands of global customers to protect millions of servers. Deep Security powers Trend Micro's Cloud and Data Center Security solution, providing market-leading security capabilities for physical, virtual, and cloud servers from a single integrated platform.
As Arrow is the only distributor for VSPEX Blue in the Middle East and the biggest distributor for Trend Micro, we took this opportunity and provided our complete solution – compute, network, hypervisor, storage and security as well. We tested the integration of Deep Security with VSPEX Blue in our own lab and we achieved amazing results, which can help all our customers to have full data centre solutions that have been built with security in mind.
How has the distribution process evolved in the last few years and what do you think will be the future?
In the last 10 years I have been with the company, one of the most noticeable changes has been the decline of margins at a distribution level. It has been reduced to half. Although this is being compensated by increasing volume, it is something we cannot ignore.
Another observation is that large systems integrators still do not represent much business for us. The traditional VARs continue to survive and are going strong. They remain an inevitable part of the value chain, although many had predicted that SIs would take over.
Do you believe this will continue over the next few years?
Cloud will impact the channel business greatly. As the mode of delivery changes, telcos and SIs will have a second opportunity to capture the share of the market from the central services. But as of today I can confidently say that VARs remain indispensable to SIs and even to the telcos in this region. The skills and know-how of VARs continue to play an important role. I don't see it changing soon, however I see a part of that market moving into the cloud mode.
Where do you see Arrow in the next two years?
I see Arrow doubling, if not tripling its business in this region.