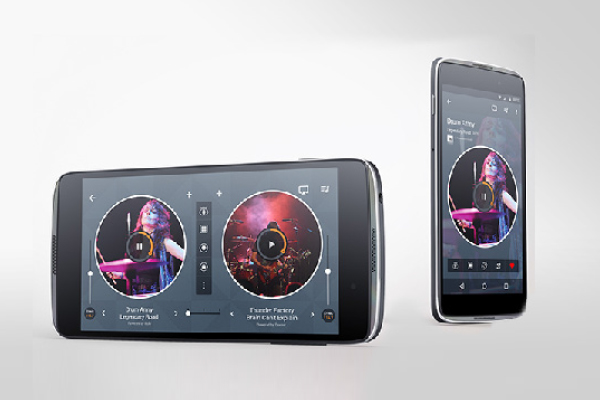 Adelle Geronimo test drives Alcatel's latest flagship smartphone, and looks into the pros and cons of the device.
Alcatel OneTouch has certainly done a great job to their latest flagship phone, making this mostly plastic device look elegant. The blend of the silver plastic edges, and the matte-grey back all contribute to making the Idol 3 eye-catching.
This lightweight smartphone offers good functionality which is notable, however, perhaps the phone's 'cherry on top' is its reversibility. Staying true to this product line's slogan – 'Upside Down,' users will be very much impressed with Idol 3's reversible feature where the whole display automatically flips upside down allowing continuous use of the phone for multimedia, messaging and even for answering calls, thanks to a microphone and a speaker both above and below the display. Unless you're using the rear-facing camera, there really is no wrong way of picking it up.
The phone is equipped with a 1.5 GHz Qualcomm Snapdragon 615 Octa-core 64-bit processor with 2GB of RAM, which makes it quite snappy when used for basic tasks. However, if you are a major multitasker this might not be a device for you, as it becomes a bit sluggish when used for more demanding tasks.
On another note, the battery life is quite impressive, it's 2910 mAh cell guarantees more than enough juice for a usual busy day, and mostly lasts up to two days.
Idol 3 sports a 13-megapixel (MP) rear camera with a single LED flash, and an 8MP on the front.
There really is nothing much to complain about the cameras as the quality of images they produce are generally good. The colours are great, so overall, great snappers.
The device also features Alcatel's own apps built into the phone, but what makes the smartphone a bit more interesting is its music app. It works like a typical music player, where you can browse and queue up tracks, but it also incorporates a DJ software by Mixvibes, so you can flip the app into landscape, a mixer comes up, and you can dial in your inner DJ.
Available at reasonable prices, AED 899 (4.7-inch) and AED 1099 (5.5-inch), Idol 3 is a handy and satisfying mobile device to have even with some of its minor issues. It also comes in 16GB and 32GB storages, for single SIM and dual SIM variants, respectively.