SAP along with its Gold partner, TYCONZ, organised an end user event, which was a platform to educate attendees on SAP Business One solution, an ERP solution designed specifically for SMEs along with SAP Business Intelligence solution for SMEs.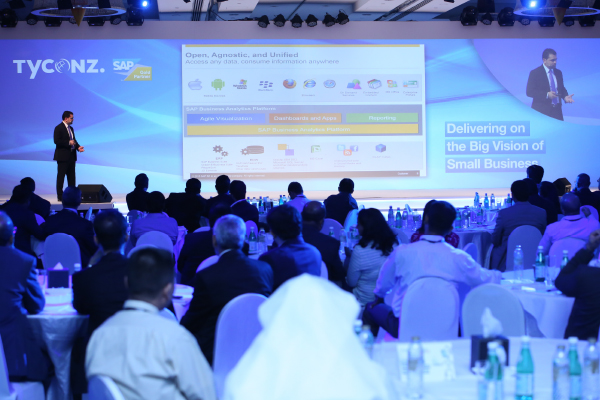 SAP, together with its Gold partner TYCONZ, an SAP-certified consultancy firm in the MENA region, held an end-user conference last week, at the Jumeirah Beach Hotel, Dubai, where the 100-plus attendees had an opportunity to learn how to increase organisations' efficiency through SAP solutions.
The half-day conference kicked off with a presentation from Jawad Fakih, Managing Director, TYCONZ, where he introduced SAP's solutions portfolio.
He said, "We are certified training vendors and provide end-to-end SAP certifications. The focus is on SAP Business Intelligence and Business One solutions. Customers can transform their business with these solutions."
Uma Shankar Dubey, Channel Manager Business One MENA, SAP MENA, said that the company's primary aim is to help customers "run simple".
"SAP is not only for enterprises but also for SMEs. We are all about innovation and we believe that we have to start at grass root levels. If an economy has to grow, technology is the major driver."
Following Dubey's presentation, Shadi AbdelKhalek, Business Development Manager, SAP Business One, TYCONZ, elaborated on SAP Business One solution.
Organisations can now avoid the hassle and expense of integrating multiple systems as its business grows. SAP Business One – a complete ERP system designed to help small- and mid-sized companies – offers integrated reporting and analytics for the customer's complete business needs.
"It is a complete integrated, extensible, innovative and truly affordable solution," Shadi AbdelKhalek added. During the event, Fakih also did a live demo on SAP Business One solution to reveal how organisations can streamline operations to achieve optimum performance. This proved to be an interesting session, where the audience took the opportunity to participate and get answers to their business challenges.
Tarek AbdelKhalek, Managing Director, TYCONZ, discussed in detail the advantages of deploying Business Intelligence (BI) and analytics solutions to make informed and better business decisions.
"SAP BI solutions cater to various specific needs of businesses. BI can help you collect data from multiple structures – access any data and consume information anywhere. In addition, SAP Lumira is a simple data acquisition and transformation tool through which users can create different dataset based on any data and mash it up with other data," said Tarek AbdelKhalek.
The conference was a huge success in terms of educating fast-growing organisations on SAP's business enablement solutions. It provided an ideal platform for customers and partners to network with SAP and TYCONZ executives.