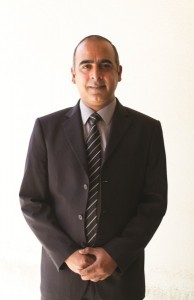 Despite being a new entrant to the regional value-distribution landscape, Cerebra Middle East is ramping up fast to cash in on the opportunities around storage and data centre infrastructure. We spoke to Asit Ahuja, Director and CEO, to find out what makes Cerebra tick.
You are a new kid on the block. How's the ride been so far?
Yes, we are a relatively new entrant in the Middle East. We took off in mid-2011 and spent the first six months in building a team and forming vendor relationships. So effectively, last year has been the fully fledged operational year for us and we have already made good inroads into this market. We are a purely value player with a focus on data centre infrastructure and storage solutions. We operate throughout the Middle East, purely through channel partners and we have vendors such as Fujitsu, FalconStor and Fibrenetix in our portfolio.
You made your foray into this market during a time that wasn't really conducive to growth…
We look at it differently. Yes, times are indeed challenging, for both vendors and the channel. We did understand that 2012 wasn't probably the best time to enter the market but we did manage to address the pain points of channel partners. When we entered here, the cash flow situation was really bad in the market and there was room for extended credit terms. One of our go-to-market strategies was to assist the channel to fulfill commitments to their customers and, as a result, we acquired a lot of partners. Today, we are actively working with 60-plus partners through the region. We are a VAD, so we would like to work with less but more focused partners.
How do you define value?
I would define value addition as something that assists the channel partners achieve greater margins and save costs. We provide pre- and post-sales and assist our partners with their go-to-market. There are times when we do PoCs for them to convince their customers about the technology. The back-end support to the channel partners is very critical and that is the real value addition.
Some of the vendors in your portfolio don't have a presence here. Do you have to evangelise technology and act as an extended arm?
Yes definitely, even if the vendor has a direct presence in the region. In some cases, they outsources pre-sales to us. So the value addition we provide is not just to the channel partners but to the vendors as well.
How do you see the regional channel landscape evolving?
We have done our due diligence before stepping into the market, and it indeed is very different from what we see in other parts of the world. The channel here is quite demanding in terms of price, and also we are dealing with partners who have been hard hit by global recession and political unrest in the region. Having said that, the encouraging factor is that the grasp of technology is tremendous in this particular channel community and the entire focus on technical learning process makes it easier for us as VADs to enable our channel partners.
Is training and certification key to your channel enablement?
Absolutely, and we follow the train the trainer concept. First, we send out our resources to get trained and then we enable our partners with training programmes leading to certification.
Services is probably where the margins are now, but the business model of most channel partners is product dominated. Do you see that changing?
I beg to differ. It might be true in the case of the SMB market, not in the enterprise, and high-end midmarket where we play. We address the solutions-based market, where we sell the utility rather than the product itself.
Are you able to capitalise on the booming storage market?
Data is growing at an average of 20 percent across all organisations, leading directly to an increase in storage capacity required. A lot of enterprises in the region are now looking at disaster recovery and business continuity, partly driven by government regulations. We are also seeing a huge demand for storage-related to video surveillance. Throughout the Middle East, ministries of interior have mandated that city surveillance footage be kept for 180 days and critical segments such as banks have to keep their video footage for longer periods. This is driving a huge demand for storage and we have established a separate business division within Cerebra to address the needs of this market.
Are you looking at the SMB market?
Our focus is on the mid-market now mainly due to two factors – it's easy to penetrate this market segment and secondly, even enterprises are looking for 'inexpensive' products. However, many vendors are moulding their products and services to suit the needs of the SMB market and I don't see any reason not to address this market in the future.
What are your plans for this year?
It sure has been a roller coaster ride for us. Last year, we forecast $10 million and closed the books at $14 million. This year, we are going in for a full-fledged presence in Saudi with a joint venture of sorts. We are opening up offices in Riyadh and Dammam, and will have a JV into Qatar as well. Recently, Cerebra globally has made a $30-million acquisition of Cimelia, one of the world's larest e-waste recycling companies. We will very soon offer e-waste management services to both the channel and their customers. //