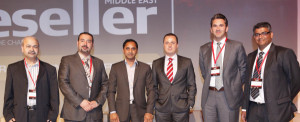 Reseller Middle East's fifth annual Partner Excellence Conference rallied together the channel community to discuss emerging market trends and evolving business operations.
The conference in its fifth year, saw a large number of attendees all throughout the day and provided an ideal platform for industry stakeholders to talk shop and also share insights with the reseller partners.
Through a series of panel discussions and presentations, the participants were able to network with the who's who of the regional IT channel. Taj El Khayat, MD, METNA, Riverbed set the stage for the day with an industry keynote, and urged channel partners to ramp up their skills and streamline efficiencies to respond to changing market dynamics. "Vendors are looking to go deeper with fewer partners. I want to make sure we are managing partners together in an efficient manner. We need to do it properly with the right planning," he said.
He added that channel partners need to be profitable in order to keep investing in the business. "Resellers and systems integrators have to profit so that they continue to invest with us. In order to ensure the business is profitable for all stakeholders of the business, the services components must be partner-led."
El Khayat discussed about how human capital is the most important asset of any business and that they must be cherished. "Partners are king. The only way a partnership will work is when both parties add value to what is there on the table."
Next up was Ahmad Diab, Solutions Sales Executive, Dell – UAE, who outlined the cloud services opportunities for the channel and discussed some of the powerful disrupters in the marketplace. "By 2017, 900 million tablets will be in use for work and home. And CIO adoption of 'cloud first' strategies will double to 70 percent by 2016. And in another six years, the annual data generation will by 35 trillion terabytes." In this kind of a scenario, Diab said, security and risk are the number one concern in the adoption of cloud.
The first panel discussion of the day saw industry experts sharing their views on 'Achieving and sustaining profitable growth'. The channel players have come a long way from the downturn experienced a few years ago. The focus is now not only on the top-line growth but also striking a balance and maintaining profitability. Although it is easier said than done, maintaining profitability in day-to-day business is not easy, especially when we are talking about partner profitability.
Agreeing, Shailendra Rughwani, President, DCG, said, "What is going to happen if there is no drastic change in the channel? We will see drastic shrinkages in resellers from mergers and closures. This will happen soon, so something needs to be done now. Everyone must come together."
StorIT Distribution's Group MD, Suren Vedantham, urged the reseller community to monitor its strategies on a regular basis. "If people really want to invest in business for the future they have to educate themselves with the available reports and identify areas of opportunities. Private cloud computing can be an opportunity for profit."
But when it comes to partner profitability, whose responsibility is it? Are the vendors conscious of the impact the products and services have on the partner's business? According to Zaeem Ahmed, Group Marketing Manager, Metra, the pressure is equally on vendors and resellers. "When it comes to educating the resellers, vendors must take an active participation. And it is a continuous process."
Vedantham added that survival is only possible if there are sustainable business models and he says change is an integral part of it. However, he says, "People are not ready for change, if they understood the change, they can have the vision. We must upgrade constantly."
Mohammad Mobasseri, CEO, emt Distribution added, "The industry is moving ahead, if you look at success stories in the past two years, you can see a number of startups that have been successful."
The panel concluded that embracing change, focusing on partner profitability and leading with services are some of the ways to achieve and sustain profitable growth.
Post the panel discussion, Haitham Alkhazaleh, Information and Claims Manager, Coface Emirates Services gave a presentation on 'Managing credit risk', another burning issue in the Middle East IT channel.
Alkhazaleh said, "Extending credit to customers creates cash flow and payment risks for the seller. There is less cash available and lower access to financing. Companies extend credit, they are not paid back and then they risk bankruptcy."
He explained when credit risk is identified, companies have to eliminate or transfer this risk by monitoring, collecting information, maintaining trade reference check-up, sensing market trends and industry performance, doing proper financial and non-financial analysis for debtors.
The second panel discussion focused on the future of systems integrators in a SaaS world. Will the ongoing shift from on-premise to off-premise IT make systems integration redundant? This question is particularly relevant as some of the SaaS vendors have started packaging integration as a value-add.
Boby Joseph, CEO, DST, who was one of the panelists said, "I don't think things are going to be black and white in the future, and customers are going to need help. IT is increasingly becoming a driving force. There is a huge opportunity for systems integrators and resellers in the future."
Agreeing with Joseph, Jude Pereira, Managing Director, Nanjgel spoke about the opportunities present in the space with emerging technologies such as cloud and Internet of Things. "The biggest risk we have is to demonstrate the value of the service."
Saying information security is the reason why organisations aren't adapting to cloud today, Stephan Berner, Managing Director, Help AG brought in a new angle to the discussion.
Mohammed Zameer, General Manager, Al Rostamani said, "I have never found any vendor that went out and preached the cloud for security. The question I ask myself is what can I do, and do now? If you ask 40 people, you will get 40 different definitions of the cloud. To me, cloud is going to be one of those value-added technologies. With the cloud, we will have some challenges and some benefits as well. The question is how much of your applications or data do you want to switch to the cloud?"
Miguel Angel Villalonga, CEO, Emitac Enterprise Solutions, added another perspective: "The data centre is now more automated, now measurement is possible. At the end of the day, we are using technology in a traditional sense, with cloud as well."
The panel further discussed that the region still demanded a face-to-face relationship but that might not be the case few years down the line. Berner added, "I think slowly but surely this attitude is going away and I think it needs to go away."
Just before the final panel discussion for the day, Shahnawaz Sheikh, Regional Director, MENA & Turkey, Dell, SonicWALL presented on 'Securing your businesses with Next Generation Firewall'. "Firewall solution extensions are very important to ensure better security," he said.
Value-added distribution (VAD) is the name of the game, which was evident from the strength of the panel. The final and the largest panel for the day discussed on 'what it means to be a true VAD?' We have seen that the term VAD means different things to different channel players. For some, it simply means adding pre or post-sales or technical support. However, according to Ajay Chauhan, CEO, Comguard, VAD clearly means you need to understand the network and the security paradigm. "We should have the right skill sets required to support the industry," he said. Agreeing with Chauhan, Adel Qahwash, GM, Al Jammaz Distribution said a VAD must understand all perspectives of the business.
Anand Choudha, Managing Director, Spectrami said, "We go and talk to the customers and make them understand about the technology. The channel needs to be convinced that there is a market for this product. At the same time we need to ensure that we have all the skill sets necessary to support the channel."
For Renton Dsouza, Divisional Director – Comstor, WestconGroupME, valuation can take any shape. It can be anything that helps brings the vendors to market. While Mario M. Veljovic, VP Solutions MENA, Global Distribution said, "The culture of the team needs to be geared to discovering new ways to make value for the company and the customers. Value needs to be something that the partner is willing to pay for."
From a vendor's perspective, Cem Ocal, Sales Director Distribution, Middle-East, Alcatel-Lucent recommends strategising and focusing on the best solutions available, in order to offer true value-add.
This feature alone will not do justice to the VAD topic, considering how it induces lengthy discussions. But it will suffice to mention that one of the major points the panel discussed about was if a pure play VAD will survive over a volume distributor with a VAD division and the unanimous answer was it will, although there will be few challenges. With that, the conference came to an end but not before the audience won exciting prizes for being the most interactive on twitter and from raffle draws.
Considering the large number of attendees this year, it is fair to say that platforms like these only enable and further educate the channel players with current market trends and device a way together to face the future.