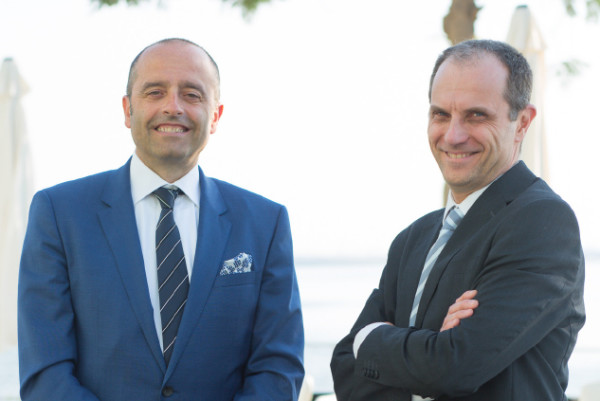 Moreno Ciboldi, Senior Vice President, South Europe, Middle East and Africa and Marco Pasculli, Vice President for Channel Sales and Strategy, South Europe and Middle East and Africa from Alcatel-Lucent Enterprise, discuss the channel roadmap for 2016 at its annual regional partner event. 
Can you share what was communicated to your partners at the event?
MP: This year's annual regional partner conference brought together our top partners from both systems integration and distribution space. The event serves as an ideal platform to summarise the highlights of 2015 and plans for this year. We exchanged and shared company strategies and business partner evolution. Under the Value4Partner programme, we are progressing well on our company transformation and collaboration with channels. And over the course of last year, we have released many simplifications, new tools and variations for our channels. Therefore, 2016 will be the year to dive into it more extensively.
We strictly follow the three pillars from the V4P strategies that are dramatically cutting the cost of our collaboration – simplify all processes, double the revenue with partners and co-investments. In line with these pillars, we have massively co-invested last year in opening new markets such as cloud. We have co-invested with a select number of companies to start doing business or communication in the cloud. It is an opportunity for us to transform and evolve our customers into new directions. In terms of the on-demand business, we have also announced the next release of network-on-demand. We are now not only in communication and cloud but also in the networking space.
MC: 2015 has been a year of changes. It was our first year as an independent company since we were part of the bigger organisation, Alcatel-Lucent earlier. Therefore, operationally and structurally, there have been many activities. We believe this is a great opportunity for us to start from scratch and do the business in a different way but with the same positive energy. Today we are capable to grow market share in both areas – communication and digital networking. In fact we grew significantly in digital networking, especially if we consider our regional entities, South Europe, Middle East and Africa, in spite of all those transformations that we had to implement. Also, at the same time we grew three percent in the region overall. In 2016, now that we have completed the set up, we look forward to working with partners utilising the right tools to address the market opportunities.
V4P is a key programme for us. We have a consistent strategy across the history of Alcatel-Lucent Enterprise. Our success is based on the success of our business partners. To help our partners, we need to have a very consistent strategy that is based on following the market trends and evolution, which is now more about applications and mobility, and help customers perform better on their specific business using our solutions.
What aspects of the company's transformation are partners most excited about?
MP: They are excited as they feel and recognise our transformation. They see tangible benefits in their business. They feel that we really care about them. Many of our partners are working with us for a long time. Technology is accelerating the space. They appreciate our efforts to be a simple company to work with. They like the way we are targeting the market and our creation of dedicated vertical solutions, through which they have the chance to make more profits and sell easier.
MC: The market is moving from CAPEX to OPEX and we understand that. So partners see and identify with that and they believe in us. They appreciate the fact that we are seeing the evolution of the market in the right way.
Where do you see Alcatel-Lucent Enterprise in two years from now?
MC: I think we have clearly stated where we are going. What is paramount for us is that the business partner understand the trend that we as a company are taking. We see ourselves going in the right direction in terms of focusing on our energy where it counts, from technology development to the way we position our technology in the market and engage with our business partners. Today, we are engaging with our end-users together with our business partners. So I see a company that is becoming more and more a key player in the market where we operate.
What are the challenges you are seeing in the Middle East region?
MP: The challenge is to be a step ahead of market growth. We need to be everywhere, which is why channel engagement is key. We need to be in front of as many customers as possible with the right partners.
What is the business focus for 2016?
MP: To become a solution business outcome provider rather than products.
What is your message for your partner community?
MP: The message to our existing partners is – stay with us, we are dramatically investing to be a much more efficient company. And to the new comers – join us, we are going to surprise you in terms of new solutions and new tools for making business together.