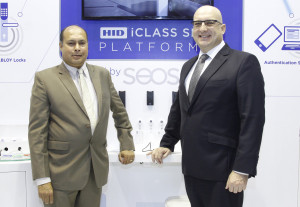 HID Global's Business Segment Director for PACS, Jaroslav Barton and Nat Pisupati, Regional Sales Director Identity & Access Management, MEA, take us through the company and channel plans for the year.
As organisations work towards adopting and adapting to the emerging technologies, one of the most crucial factors to consider remains to be security. Over the last year, there have been reports of several security breaches, which have further compelled businesses to be more vigilant in securing their premises.
Secure identity solutions manufacturer, HID Global's Business Segment Director for PACS, Jaroslav Barton, says, identifying the demand and potential in the market, the firm is in the process of increasing its offerings in segments such as physical access control and identity insurance. "We see an increased demand in the market for having combined and converged solution of secure identity, which will have to protect not only the entrance of the building but also the assets in the building such as data residing in the computer, network and clouds," he adds.
He goes on to say that solutions that were secure two decades ago are now susceptible to threats as technology has evolved and hackers too are equipped with advanced tactics to create a security breach. "It is necessary for us to be two steps ahead of these offenders and offer future-proof solutions."
Tapping into current market trends, the company is also in the process of using smartphones as access control devices, instead of the traditional card. "Our HID mobile access solution provides a high secure virtual credential that can be loaded into the mobile phones, with which one can open doors. Additionally, we support Bluetooth smart technology and with gesture technology enabled, we can activate the readers from a longer distance. This provides better convenience and we have observed a keen interest from the regional customers for this technology," says Barton.
Nat Pisupati, Regional Sales Director Identity & Access Management, Middle East & Africa, HID Global, says, partners can expect a number of initiatives from the vendor this year in terms of new solutions and technology.
"Without new products, you are not going to gain a sustainable growth. We are not looking at increasing our partner ecosystem, we are going to work with our existing well-defined set of partners with new products to increase our market share as well as our sales."
HID's Advantage Partner Programme empowers partners to increase their market share while also maintaining their business profitability. According to the company, partners can take advantage of the programme's streamlined channel engagement model as it is designed for long-term success.
The company invests in the enablement of partners through the programme with features such as a tiered structure for pricing, market development funds, training resources, leads, and early access to product and technology direction. Based on the level the partners are at, the company shares marketing funds, invests in solution seminars, roadshows and training programmes. "As our technology is constantly evolving, we must ensure they are aware of the new developments. Therefore, every six months or so, we fly in trainers from US or UK to train our partners on new products and solutions," says Pisupati. Besides on-site training initiatives, the company also provides a global portal for its partners, and a variety of online technical training and solution sessions through the Genuine HID Academy.
"We are concentrating on our mobile access technology, that's mainly for our Physical Access Control Systems (PACS) partners. Each partner is on a different product line. At Intersec, our focus was mainly on cloud-based mobile access technology, which our PACs partners will benefit from.
When choosing partners, the company looks for those who are technically proficient and have good customer service. "We also want them to have a good market reputation and know the business very well. These are some of the criteria we rate them on," adds Pisupati.