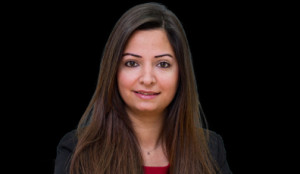 THE OPTIMIST
The key to success could be different things to different people. For Maya Kreidy, Regional Channel Manager, GCC, McAfee, it is about determining one's strengths and weaknesses, then focusing on only the positive qualities. This is what has helped Kreidy to be successful and motivated, in her current role. From her previous stints with various vendors and distributors over the last six years in the country, she has discovered her passion for building a healthy channel and working closely with partners to enable them. Six years ago, she used to be the only woman in the team. Today, she says, the times have changed and women play important roles in the marketplace, including the IT business. "It is all about how you position yourself and deal with people around you to gain their respect and trust. I have had a great experience with the end users and partners that I have dealt with and only on rare occasions have I felt the gender discrimination in the business, especially in the UAE," she says.
Kreidy further admits that being a channel manager is not an easy job, "since you don't only have to deal with the channel partners but also have to build a strong bond between the partners and the McAfee sales team. A vendor can never work without a loyal channel base and the channel partners need the vendor's support to penetrate into the market and to close deals. The challenge is to win and maintain a balanced relationship between the company and its partners," she explains.
For Kreidy, her role model is her father, who has played a crucial role in instilling her with confidence and courage to pursue her goals.