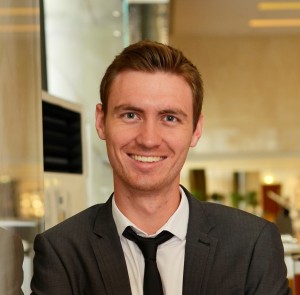 The team at CNME was fortunate enough to be present for the launch of the new BlackBerry 10 OS as well as the unveiling of its two new smartphones – the Z10 and the Q10.
It was a fairly impressive event, I must say. Six cities being simultaneously linked via satellite as Thorsten Heins, BlackBerry's CEO, gave his presentation live from New York. The presentation was broadcasted in London, Toronto, Johannesburg, Paris, and of course here in Dubai.
One hell of a statement from the former RIM guys who appear to have put so much into this rebranding and reinvention. It certainly was one of the only events I've attended which seemed to have as much excitement surrounding it as it did anticipation and nerves. People wanted BlackBerry to nail this and as a result return itself to its former glory.
Whether or not it did that, I can't say. The jury is still out on that one. BlackBerry launches its new devices here in the Middle East on the 10th and although the immediate reception has been good, the real test will come in a few months time – perhaps when little glitches have been resolved and all regions have got a fair feel of the products.
However, in the meantime you can get a sneak peak here on CNME.
The Z10 device (which I possess) is a fully touch screen enabled phone, different to the sister device, the Q10, which will still carry the famous BlackBerry QWERTY keyboard, as well as a touch screen – not too dissimilar to older Blackberry models.
One of the immediately noticeable things about the Z10 is that it looks a lot like the iPhone 5. It's straight, thin, well polished, and extremely light. This is a little ironic as during the live demonstration the device was said to be "completely BlackBerry in look and feel," which, as former BlackBerry enthusiasts will know, isn't the case. BlackBerry devices are renowned for being unique in style as well as a touch on the heavy side – this is neither. But don't get me wrong, it's an attractive device and feels rather sturdy regardless of its lightness.
The user friendliness of the phone has been a big marketing point so far. The idea that BlackBerry has tried to convey is that these phones can be used to full advantage with only the thumb. The typing has been altered, the BlackBerry 'Flow' design keeps things simple and the BlackBerry 'Hub' is a clever way of keeping all means of communication and social media in one place.
Let me focus on just a couple of these features.
The Hub is a great feature to the new OS. Simply put, it allows you to check in on any messages or mail you have received via Twitter, Facebook, LinkedIn, email, text message, or BBM by simply swiping up and right on the screen, revealing the notification list on the left of the screen. If it's not important or urgent – say your boss has asked a favour but in actual fact you're busy trying to conquer those pesky Storm Troopers on Angry birds – Star Wars edition, then you can just swipe back the other way and continue what you were doing. Alternatively, if the message is of a slightly higher priority, then you can enter the Hub, check all relevant mail, respond, flag, add to the 'Remember' folder, whichever you deem necessary, then simply swipe back to the previous app. The Storm Troopers will be sat there waiting for you. And throughout this whole procedure you won't have once entered any other app, you can control them externally. Which is great for time saving as well as battery saving.
After this, the other feature I find really worth mentioning is BlackBerry's video calling app. Similar to FaceTime, the app allows you to video call contacts for free over Wi-Fi using BBM. However, there's more. Whilst on the call, you can launch Screen Share. This feature allows the person you're calling to see your screen in a live environment. Basically, it turns the other person's device into nothing more than a viewing platform for what you're doing.
So, if you want to show your colleague a slideshow, or a run of emails, or a calendar entry, etc, then you can do it from anywhere in the world. However, the downside is that in the same respect as FaceTime, this feature isn't available in the Middle East markets.
So overall, the new BlackBerry OS is a lot faster than previous versions, the little creases have been ironed out in terms of user friendliness, innovation, apps, and that ever so irritating issue with freezing. It's made a great attempt at attracting the personal consumer with the new social features and attractive design. It's a really good piece of kit. In fact, my personal opinion is that it trumps the iPhone. Whether or not the sales will reflect that, only time will tell.