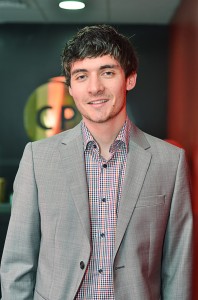 The Big Boys Toys Exhibition was billed as the 'ultimate playground' – and it didn't disappoint.
We were invited to the event at the Atlantis, which was a show and tell of the highest number of outrageously expensive yet wonderfully flash automobiles, boats, gadgets and technology advances you'd ever find in one room. Only in Dubai!
As a journalist for CNME, I immediately attempted to responsibly force myself past the F1-style street-legal supercar and Harley Davidson's that greet you on entrance. Not an easy feat for a 22-year-old male, especially when I swear they were calling my name and shamelessly enticing me in.
But I was proud of my clear display of self-control as I reached the only product that I felt was of clear relevance to our sophisticated readers. The Emperor 1510, a highly innovative computer workstation was, to be fair and in its own way, just as impressive as the supercars and yachts.
The purpose-built high-comfort workstation allows you to electronically control the inclination of your chair and level of your three monitors, which you can operate at the same time based on your work, gaming and video desires. As I sat there clicking away, I was easily sold on the idea of having this as my permanent work station – but not quite as sold on the $6200 price tag.
With that out of the way, I was free to play in the 'ultimate playground' – and I can comfortably say it easily surpassed the swings and roundabouts that made up the playgrounds of my English upbringing.
I jumped in the not-at-all ostentatious f1-style supercar and pretended I was Sebastian Vettel, sat on the ultimate Harley trike and pretended I was a Hells Angel, and hopped aboard the incredible $5 million eleMMent Palazzo luxury RV and pretended… well, that I had $5 million to spend. That felt pretty good!
Unfortunately however, and I couldn't think of a single reason why, they wouldn't let me drive any of those. So I went on a mission to find somebody crazy enough to let me drive something, anything. I immediately hit the jackpot when a lovely gentleman told me I could fly his plane. When I tell you I did exactly that and proceeded to crash it into a lake, I'm not lying.
Don't worry, I didn't cause any physical damage – it was simulated. The Virtual Fly OVO-04 full flight simulator was a wonderfully realistic flying experience and great for both entertainment and aviation training (I won't be giving up my day job just yet).
I still haven't physically driven anything, I hear you say. Well that was about to change, as suddenly I was dodging my way around exhibitioners in the zero gas emission T3 Motion electric standup vehicle (ESV). It may not have been physically as cool as a supercar or private plane, but the fact they let me drive it (albeit at the locked speed of  5 km/h, rather than the 25 km/h it is capable of) meant it was definitely winning in my books. And the picture op with T3 Motion's two beautiful assistants made me feel cooler than all the formula one drivers in the world.
Needless to say, I could have amused myself in the Big Boys Toys ultimate playground all day. But the painful realisation inevitably came that I'm not a multimillionaire, I couldn't afford any of the amazing products on display, and I had to head back to CNME headquarters. I guess its back to swings and roundabouts for now.