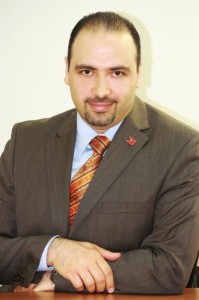 With the Internet of Things now an imminent reality, Middle East network providers have their work cut out for them, says Samer Ismair, MEMA Network Consultant, Brocade
Advancements in technology over the past decade have been so rapid that devices that generate, process, transmit and store data are now cheaper and more accessible than ever before.
Smart, internet-enabled devices have penetrated every aspect of everyday life and their numbers are only set to rise. Research firm IDATE predicts that eighty billion things will be connected to the internet by 2020, leading to a phase that industry experts have termed as the 'Internet of Things'. This trend, coupled with the exponentially growing volumes of traffic from traditional sources will require a fresh set of network investments.
With the Internet of Things now an imminent reality, Middle East network providers have their work cut out for them. It is an opportunity, despite one that entails significant challenges. As promising new technologies continue to emerge, regional network operators must meticulously plan their investments in order to build the high-performance, future-proof networks of the tomorrow.
As a first step, organisations in the Middle East  that have not done so already, must consider virtualisation. Now the de facto industry standard, virtualisation brings the uncontrolled growth of hardware in the data centre to a halt. By virtualising servers and applications, and adapting their network topologies accordingly, companies can improve performance in the data centres without bearing cost overheads. Mobile and cloud services have increased reliability and scalability requirements of the data centre and virtualisation addresses these issues too. But to effectively build, expand and monitor virtualised networks, operators must closely examine the physical, virtual and control layers of their infrastructures.
Requirements of the on-demand Data Centre
With consumers increasingly subscribing to on-demand services, data centre requirements have evolved. In addition to being the solid base which provides physical connectivity between applications, servers, and storage, the data centre is now the epicentre of IT innovation. For organisations looking for greater flexibility in their data centres, fabric network topology is essential. Compared to classic hierarchical ethernet architectures, ethernet fabrics provide higher levels of performance, utilisation, availability, and simplicity. A fabric approach is also far more suitable for working with highly virtualised data centres.
On top of the physical infrastructure lies the virtual or logical layer. This has been widely utilised in the server domain with hypervisor technology. With new requirements, there is a need to adapt these concepts in the IP network and storage domains as well such as through the introduction of virtual switches and routers. Using Network Function Virtualisation (NFV) operators can leverage a virtualised solution to improve the efficiency of their routing and switching. Also, as there is little or no special hardware required, there are major cost benefits too.
In the third layer are the controllers for the network, servers and data storage, which monitor the status of the data center components based on pre-defined KPIs. The entire management is possible with orchestration frameworks such as OpenStack. It is an open-source software that delivers a massively scalable cloud operating system designed to enable end-to-end data centre orchestration. OpenStack not only supports business objectives, but also creates a foundation for growth, ongoing flexibility, and innovation.
Data centre in a box
The data centre of the future, that is capable of supporting the Internet of Things without huge management or cost implications, will require the optimal combination of physical and virtual elements. The virtual layer will continue to grow in importance as increasing demands are placed on the three core functions in the data centre – compute , storage and network. This brings the 'data centre in a box' concept within reach: a 1U appliance that can be customised with any type of functionality or combination thereof. An organisation that successfully fills this with applications, storage and a virtual router will create easy virtual LANs and thus support secure and reliable multi-tenancy in its data centre. And this is exactly what will be needed.
It is clear that networks of the future will require significant investments in the physical, virtual and control planes of the network of today. The Internet of Things is not an "if" but rather a "when" proposition. Its development and success will depend on the commitment and foresight of network operators. Smart investment and future ready infrastructures will be the cornerstone of this evolution.