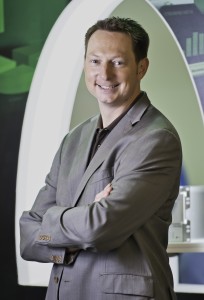 Dell SonicWALL's Head of Product Marketing, Florian Malecki, talks devices, data, and security.
We love our devices. IDC is predicting 686 million smartphones will be sold in 2012 alone. Then there are the countless connected tablets, laptops and desktops; not to mention that products—from cars to copiers—that are connected devices, too. From a network perspective, it all adds up to a staggering number of endpoints.
Our relationship with our devices is deep, and getting deeper. But without access to data, the value of our devices is limited, if not eliminated. Whether business critical or frivolous fun, our mood quickly fades to frustration when we can't access our data (as we punch "submit" one more time when the screen doesn't instantly change).   The truth is, there's a powerful three-way relationship that exists between our devices, our data, and ourselves. But without access to data, the relationship just doesn't work.  Nowhere is this more apparent than in the business world.
Today, a business's productivity is inextricably linked to the ability of its employees, partners, and customers to access and exchange data. And there is a straight line between productivity and profitability.  But hackers also smell opportunity in this evolution. Businesses, of all sizes, are increasingly struggling to defend themselves from the explosive growth in security threats and cyber-attacks.
Without significant advances in security technology, management and deployment strategies, the huge volume, form and sophistication of malware has the potential to inflict huge vulnerability on corporate network with catastrophic results.   Scare mongering?  Absolutely not.  Last year alone, Dell SonicWALL identified nearly 16 million unique malware samples through its GRID (Global Response Intelligent Defense system) and is reporting around 44,000 new malware samples every day.    So what are we to do
Today's cyber threats have broadened in scope and reach, which demands business to refocus technology resources to drive connected security and ensure both outside-in and inside-out protection.
The logical step is to secure everything, from endpoint to data centre and everything in between, from everywhere—cloud, mobile, and remote. And every aspect of network technology has to be engineered for security, throughout the product lifecycle, supply chain, and manufacturing process. Dell is already ahead of the industry curve in solving these challenges.
An example of where Dell is leading the way providing the tools for this in our Next Generation Firewall technology and solutions.   For example, it used to be that firewalls were installed to protect from outside viruses and malware to keep the corporate network safe and secure – an outside-in focus.  This priority has not changed.  In fact, it has never been more important or challenging.    This is why we deploy a level of inspection and detection unparalleled in the industry  in the form of Reassembly-Free Deep Packet Inspection (RFDPI) technology which scans every byte of every packet of network traffic across all ports and delivers full content inspection to eliminate threats before they enter the without file size, performance or latency limitations.
Next-generation firewalls now  also perform a critical inside-out function by being able to protect and unleash the productivity of the network  through advanced feature of Application Intelligence and Control. The corporate network represents the central nervous system for many businesses. If it goes down, all business literally stops. Similarly, if it slows down because its bandwidth is being sucked dry from video, live streaming of TV, or Facebook and Twitter usage, so too business slows down.  Many organisations cannot differentiate applications in use on their networks with legitimate business purposes from those that are not business-critical and simply draining bandwidth or plain dangerous.  This is where innovations in the form of Application Intelligence and Control connect and give the right people access to the right applications at the right time and with the right bandwidth.
In today's enterprise, protection and performance go hand-in-hand. Connecting the dots between these two imperatives and by crafting connected security strategies that deliver outside-in and inside-out protection, organisations will be well placed to do more and gain sustainable and competitive business advantage from their IT solutions and services.