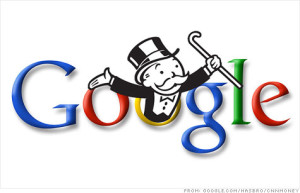 So the word's out. By the end of May it emerged that Google will invest between $20-30 billion in acquisitions of non-US-based companies, following its 2013 disclosure to the U.S. Securities and Exchanges Commission of the plans.
Prior to Facebook's $19 billion purchase of messaging service WhatsApp in February, Google's $17 billion outlay on 144 companies over the last two years was more than Apple, Microsoft, Amazon and Yahoo's combined.
Although it is not yet clear as to the timeframe of Google's planned purchases, the proposed investment is, if nothing else, alarming.
What's more, following the announcement that its $159 billion value means it has now displaced Apple as the world's most coveted brand, the investment can only increase the looming threat on citizen privacy.
Google's wide array of disparate acquisitions over the last 13 years indicates a willingness to dominate several sectors, which all come under the umbrella of personal information. The overall effect will be to hike its primary purpose of pinpointed advertising, via a strong presence in the IoT, robotics, and cloud services.
It seems these days that Google's legal team is inundated with fresh lawsuits demanding that it cease to impinge on various aspects of privacy. A Berlin court recently said Google's privacy policy and terms of service violate German data protection laws, while the Court of Justice of the European Union ruled that Google must remove links to outdated information on citizens.
There also remains the lingering suspicion that Google has engulfed these companies not just for their cutting-edge products, but also for their refreshing, visionary leaders.
In February, Google's Senior Vice President of People Operations, Laszlo Bock, outlined the qualities that the company looks for in prospective job applicants. "'Successful bright people' rarely experience failure, so they don't know how to learn from it," he said. "These individuals commit the fundamental attribution error, which is if something good happens, it's because I'm a genius. If something bad happens, it's because someone's an idiot."
Take the CEO of Nest—the smart smoke alarm and thermostat developer—Tony Fadell. Here Google have not only spent $3.2 billion on acquiring an emerging IoT leader, but they have also enlisted the man who oversaw the development of the first 18 editions of the iPod.
They seem to have realised that by hoarding talent, as well as a vast pool of personal information, they could soon be unstoppable.
Given the NSA's recent misdemeanours, it seems the US government, the one entity who could perhaps curb Google's stranglehold, is at a loss for how to intervene.
No doubt, the proposed investment is exciting for technology, but one has to fear for where this mammoth investment will lead.