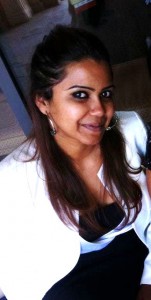 It's that time of the year when one sits down to take a long, hard look at the year gone by. Someone wise once said, "The only thing constant in life in change" and this pretty much sums up the year that past. 2011 was a year filled with political and economic trials and the world of technology flourished through it all. At least in the eyes of a new comer, it did.
Up until March 2011, I was ignorant of the world of IT. And then I was offered a unique opportunity to join the team at CNME. This opportunity not only meant a radical change in the monotonous life of a former financial analyst, but also meant an opportunity to pursue a career that allowed for constant learning and development, and after almost nine months with the magazine, I must say I have not been disappointed a bit.
A little over a month ago, I took a major step forward in my journey as sub editor of CNME. I had the privilege of representing the magazine at the SAP Sapphire Now and TechEd conference in Madrid, Spain.
Naturally, my first business trip meant that I had to forget all about the exhilarating weather conditions (13 degrees through the day with light rains) and run indoors in time for a string of meetings with some of the company's senior executives such as co-CEO, Jim Hagemann Snabe and the company's executive board member and technology chief Vishal Sikka (whose celebrity status I was not well aware of).
SAP could not have chosen a better spot than the Feria de Madrid (a titanic conference centre that had us huffing and puffing as we made our way to the different speaker sessions), as it accommodated the audience of over 10,000 CIOs and C-level IT executives (SAP customers) in addition to partners and media representatives from across the globe with ease.
During his keynote session, Jim Snabe described the German software giant as an organisation that is "consistent in the core and faster on the edge" and it sure looked like SAP was going all out to help organisations tap into innovative technology software and systems to cope with the pace of change in the international markets.  Snabe went on to discuss the company's broader vision for the future by paying tribute to two of the world's best known technology icons and, saying that the organisation was working towards emulating the stand out elements of both these iconic names. "We want to be Apple-simple and Google- fast," he said.
During his executive Q&A, Sikka went into more technical details on how SAP was working towards changing the data analytics and business intelligence landscape with the revolutionary concept of in-memory computing and announcing the availability of its business warehouse software running on top of HANA. Sikka's optimism on the developments to HANA were reinforced by energy drink manufacturer, Redbull who announced at the event that they has already deployed their business warehouse onto HANA, and had done this in a span of less than two weeks, a fact that is inspirational for any tech professional.
Of course, it was all not just work!
If dining at an 18th century castle located 20 kilometres away from Madrid and a spot of shopping in  downtown Madrid doesn't count as enough off-the-track activity for you, then a gravity defying performance by members of Cirque du Soleil and a concert featuring singer Anastacia (who was really big when I was still in my early teens and evidently still had the spunk and spirit to enthral an audience comprising some serious tech geeks) definitely is.
And then I came back, as much I hated leaving Spain. There were a set of announcements that SAP made in Spain, and my pieces from the trip can give regional end-users a view into SAP's global outlook. You can read them on www.cnmeonline.com. (I put special care into these – I know if you do a good job the first time around, the probability of covering more global conference increases dramatically).
Following this conference, SAP has announced a number of enhancements to its existing HANA platform, and even a partnership with VMware around virtualising "traditional" SAP ERP deployments. The company has also tapped into the mobility trend by announcing the new SAP Store for Mobile Apps.
SAP is just one small sample of the companies that I have seen in this rapidly evolving industry, and I have no doubt that 2012 will be another year on the learning curve for me. I know now that when it comes to technology, one can never really claim to know it all unless they have a sixth sense or an all-seeing eye. I have also learnt that change is not necessarily a negative, although changing careers meant starting from scratch, the willingness to learn bought me opportunities I couldn't possibly have imagined before.
After my experience with CNME and SAP's Sapphire now I'm ready for 2012, I'm ready to learn, to adapt and grow, I'm ready for another exciting year in technology with the new 'fen-do' CNME…. bring on the change, it is all welcome.