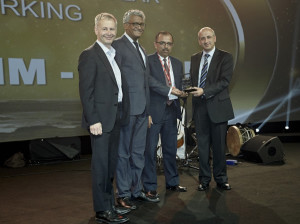 Regional systems integrator, Al Futtaim Technologies has won the 'Networking Partner of the Year' award from Avaya, a global provider of solutions that enable customer and team engagement across multiple channels and devices. The award, presented to the company for its performance in the country of Qatar earlier this week, represent Al Futtaim's success in 2014 in delivering outstanding communications consultancy and services to leading public and private sector businesses in the country, and driving the key vertical sectors on one of the most advanced networking technologies in the world.
Venkat Raghavan, General Manager, Al Futtaim Technologies, said, "The technology market in Qatar is undergoing an enormous transformation in the way businesses, technology providers and vendors engage to achieve greater value out of investments in technology. This 360 degrees shift in the technology adoption model is based on value, in comparison to the traditional price-based and fragmented services model. Businesses in Qatar are keen to engage with technology partners who can lead business discussions, innovate out-of-the box solutions, and deliver measured business outcomes. It is this value-based model that enabled us to deliver an incredibly successful year in 2014, achieving 130 percent of our growth targets, including a 30 percent build-up on our Avaya total communications solutions business."
Al Futtaim in Qatar won the award across the vendor's India, China, Russia, Middle East and African markets. The award ceremony was held at the annual Avaya Customers and Partners Connect 2015 conference in Dubai earlier this week.  Some of Al Futtaim's newest projects in Qatar include Sheraton Doha Resort & Convention Hotel, Centro Rotana Hotel, DOMASCO and Burj Marina-Lusail
Avaya awarded its business partners for their exceptional results, loyalty and for driving the transformation of the industry towards a value-based model where achievements are measured by the ability of the Avaya partners to exceed customer expectations. 18 business partners from across the Avaya global growth markets were recognised, indicating a bright future for its global growth markets-led global footprint and paving the way for a services-and-customer-value-led business model from the vendor in 2015.
Ziad Halwani, Country Manager, Avaya Qatar, said, "Avaya has achieved a double digit growth across the Middle East, Africa, China, Russia and India markets in 2014 and almost 90 percent of our business is driven by our partners. The winners are those who adopted the value-based services and were able to exceed the expectations of their customers."
"We are extremely proud of the achievements of Al Futtaim in Qatar, the power of consultancy and project management that its team delivered in 2014, and we look forward to engaging with our business partner and our clients in the country to continue building adding value to their business and all their stakeholders."