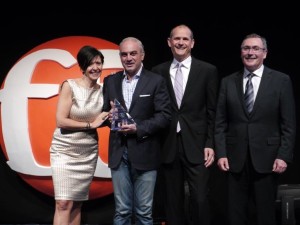 Exclusive Networks Middle East was recognised with the EMEA Distribution Partner of the Year Award from F5 Networks at its 2014 Agility Partner Awards for the Europe, Middle East and Africa (EMEA) region. The awards recognise those partners who have excelled in delivering the benefits of the company's Synthesis architectural framework to customers in the EMEA region.
Fariborz Boustantchi, CEO, Exclusive Networks Middle East said, "It's a fantastic achievement to have won recognition from one of our strategic vendor partners and we're delighted to receive this award. This award testament to our continued investment and development along with F5 Networks in the high potential Middle East market."
The distributor was F5 Networks' first Middle East distribution partner, back in 2005. "From our disruptive Secureway start-up through to acquisition by Exclusive Networks we continue to add value and investment in growing F5 Networks business across Middle East. We look forward to on-going success and supporting them on their fantastic journey," Boustantchi added.
Zafar Shabdiz, Managing Director, Exclusive Networks Middle East said, "This is excellent news and demonstrates how the value-add we deliver to F5 Networks has continued as sales volumes have risen.  The Exclusive Networks model clearly works for F5 Networks as well as for our reseller partners, many of which have achieved tremendous growth of their own, thanks to the value and support we provide around F5 Networks solutions.  Our entire F5 team should stand up and take a bow, especially our KSA team and our F5 technical team who really enable reseller partners to focus on increasing business and their client base.  This is clearly a true partnership in action."
"F5's success in the last 12 months – and indeed since the UNITY partner programme was introduced – was built on the back of a very strong partner community.  While F5 is constantly striving to satisfy customer needs around application delivery and to simplify and streamline how we interact with our partners, an essential element of success is the work we do in partnership with our incredibly talented and dedicated UNITY partners. We would like to thank and congratulate all of them, especially our Agility Partner Award winners," said Michael Schoenrock, Director, Channel Sales EMEA, F5.