Giada Technology has introduced the G320, an industry-tailored mini PC that is targeted at the region's burgeoning digital signage industry. The G320 supports up to six screens of HD output and aims to serve multiple display purposes.
Due to its simplicity, practicability and relatively low cost, a multi-screen display is widely used to provide a range of ideal solutions for the digital signage industry. Its applications which  range from government and financial service systems, security and transportation, surveillance as well as commercial advertising, is perfectly suited for the region's digital signage providers.
Equipped with the 4th generation Intel Core i5-4200U dual Core processor and discrete AMD Radeon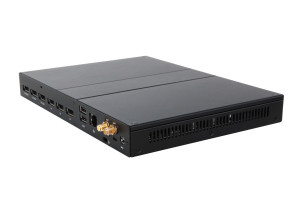 E6760 graphics, G320 is specifically designed for digital signage with 6 DP 1.2 ports. The AMD Eyefinity Technology enables upto six displays simultaneously as independent displays at a screen resolution of 2560×1600 or as a single large surface.
In addition, support for the Trusted Platform Module (TPM), which provides extensive security with high levels of data encryption, allows the use of G320 systems in various applications in IT departments of the region's large enterprises. It is also ideal for industrial control applications, smart traffic control systems, security and surveillance systems, commercial terminals and other similar applications, which require small size, wide choice of interfaces, simplicity and reliability of use.
The G320 has full-featured connectivity with IR, Wi-Fi/3G, Gigabit LAN, USB2.0/3.0, and COM, and maintains ease of use through a JAHC unmanned control interface with system power on/off/restart features too. The G320 system comes with Gigabit LAN for high-speed LAN connection with 1Gb/s data transfer rate, ideal for seamless internet connections and for audio and video streaming.
The Giada G320 system is equipped with a Phoenix EFI BIOS with support for an ACPI interface. The systems are fully compatible with the majority of popular operating systems including Microsoft Windows XP, Windows 7, Windows 8, and Linux.