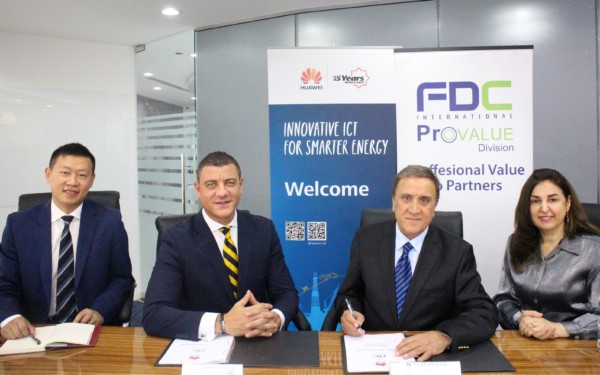 Huawei has appointed FDC International as regional volume distributor in the Middle East to support the growing need by SMEs for new ICT solutions that enable them to access enterprise level ICT capability.
FDC International and Huawei have partnered to speed up time to market Huawei products and solutions in the Middle East through FDC International's regional product centres and its expertise in addressing the digital transformation requirements of SMEs.
The tie up between Huawei and FDC was announced ahead of Huawei's annual Partner Summit, which will take place on 2nd May, 2016 at the Madinat Jumeirah, Dubai and will highlight ICT trends impacting the market while showcasing some of the technology solutions making headway in regional Enterprises.
"This partnership forms part of Huawei's direction to support the SME market through the recruitment of select partners who are able to deliver on Huawei's value-add proposition," said Hany Hussein, Vice President of Partners and Alliances, Huawei, Enterprise, Middle East. "This is in-line with Huawei's 'Transforming Together' channel development strategy which aims to create the right partner ecosystem to support the business needs of organizations of all sizes, through a long-term commitment that is based on strong collaboration with channel partners."
FDC International support SMEs ranging from 100 to 1,000 users across multiple locations, and provide fast, efficient delivery of Huawei solutions.
"SMEs like any other business are keen to have access to the latest ICT solutions that help them operate with the same capability as a large enterprise, by deploying new ICT technologies that help them succeed in their digital transformation," said Dr. F. B., Safe CEO, FDC International. "FDC has over 27 years of regional IT distribution experience with more than 200 qualified professionals to address the needs of SMEs while providing them with insights and advice on how to leverage Huawei's agile solutions to evolve their ICT environments efficiently and grow their business."
Huawei's 'Transforming Together' channel strategy is based on developing strong, collaborative relationships with its partners to help end-users gain maximum value its solutions through the partner's insights and understanding of local market needs.  Huawei's channel partners play an important role in delivering sustainable market growth in the region, and its channel strategy aims to recruit, enable and activate a core community of trusted and valued partners. Huawei's channel program provides partners with a wealth of information and education, giving them the tools to realise ICT's full potential to transform their customers' businesses.
Huawei will be welcoming partners from across the Middle East and Pakistan to its annual Channel Partner Summit on 2nd May, 2016 at the Madinat Jumeirah, Dubai.