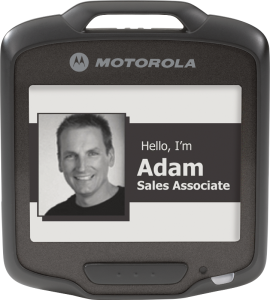 Motorola has unveiled its new SB1 Smart Badge technology.
Targeted at the retail environment, Motorola Solutions' SB1 Smart Badge is a brand new category of mobile computer. SB1 can be worn around the neck, on a belt or arm and not only allows shoppers to identify staff, but also enables staff to scan bar codes and to answer customer questions in price or inventory.
The SB1, says the company, is a true enterprise product, built to handle everyday use, including drops, spills, exposure to dust, heat and cold. The three-inch E Ink Pearly display is easy to read in virtually in every lighting condition and finger-style navigation eliminates the needs for a stylus and supports a gloved hand. It also supports HTML 5 thin client apps where the data resides on servers instead of the device, simplifying application development and eliminating the risk of data theft if the device is lost or stolen.
The low-power E Ink display enables multi-shift operation with over 14 hours of battery life from a single charge. In badge mode, the screen can display an associate's picture and name or advertise a promotion — yet the display draws virtually no power at all.