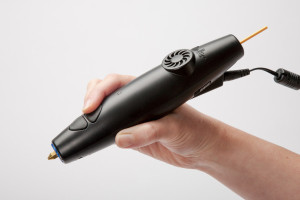 3Doodler is the world's first 3D Printing Pen; it is literally a hand held 3D Printer. Instead of creating a graphic design to be able to print an object via a 3D printer the customer can improvise 3D sketches of objects with the 3Doodler by using your imagination and hands, according to the company, Precise.
3Doodler melts the special plastic inserted with the push of a button and releases it from its nozzle. As soon as the melted plastic touches the air it gets solidified. This way it allows drawing objects either on surfaces or in the air.
Compact and easy to use, the 3Doodler can be plugged into a power socket and used immediately. This makes it ideal for freestyle 3D sketching, tracing shapes from templates to make larger architectural structures, the development of spatial skills for educational purposes, or simply a fun tool for arts and crafts enthusiasts wishing to bring 3D printing into the home.
3Doodler allows the creation of amazing 3D objects without the restrictions of complicated software or advanced artistic abilities or design training. Limited only by the user's imagination, the 3Doodler requires no technical knowledge or specific skills.