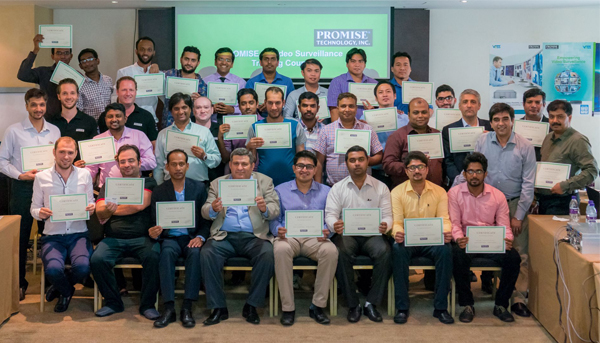 Promise Technology has announced that it has certified over 30 system integrators and security professionals as part of its Video Surveillance Training Course hosted in May in Dubai with its partner, Musallam Trading.
Promise certified professionals, are now equipped with the knowledge to support, install, configure and maintain Promise's video surveillance solutions.  All participants will also receive the Promise Certified logo to use as banner on their website and email footers which will ensure customers can easily identify that the participants are certified by Promise.
Musallam Trading, a distributor of Promise's high performance storage solutions for the MENA region, have extensive experience in the video surveillance industry which enables them to provide consultancy to integrators to ensure that optimal solutions are delivered to the customer.
Eng. Mostafa Fawzi, BDM, Musallam Trading, said, "We are excited that so many of our resellers and integrators were eager to participate in the Promise Video Surveillance Training Course which is a testament to their commitment to quality.  Receiving certification from Promise is a clear indicator the security professional is fully trained on the best-practices for deploying and maintaining Promise's surveillance solutions and is up to date on the latest industry trends."
Promise develops open storage platforms for video surveillance whose solutions include Vess A2000 NVRs and Vess R2000 and VTrak x30 external storage which are optimised to effectively handle high resolution video from HD/megapixel cameras.  Promise's video surveillance solutions support a wide range of Video Management Software, such as solutions from Aimetis, AxxonSoft, CamIQ, Genetec, OnSSI, Milestone, and SeeTec.  Additionally, the new Promise Surveillance Cloud platform for video surveillance as a service provides new possibilities to protect smaller businesses and chain stores.
John van den Elzen, Managing Director, Promise Technology, EMEA,  "We want to thank all of the participants for joining and making this such a wonderful event.  A big thank you goes to Musallam Trading for helping arrange the trainings to ensure so many participants are prepared with the necessary experience and skills to build the best security solutions throughout the region.  We are already looking forward to our next training course in October to build on the enormous success of this event."
To learn more about Promise's video surveillance solutions, please visit: www.promise.com/Solutions/Surveillance