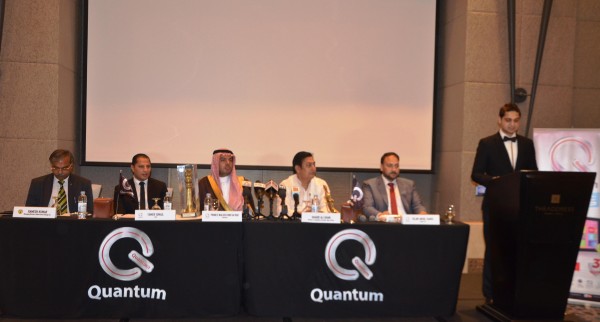 Quantum has recently signed a memorandum of understanding (MoU) with India-based Beltron Green Energy Telecom.
According to the company, the MoU will lead to the establishment of a joint venture between Quantum and Beltron to be based in India and will see the new entity supply the Department of Minority Welfare & Information Technology for the Government of Bihar with all its IT products needs.
The deal is expected to pave way for Quantum-Beltron to start supplying mobile devices including tablets, notebooks and smartphones to the Government of Bihar.
Mr. Islam Abdul Hamid, Deputy CEO, Quantum, said the company is delighted to have signed a landmark agreement with Beltron Telecom, a development that will open the Quantum brand to the Indian market.
Ramesh Kumar, Managing Director, Beltron said the deal will help the two companies through this joint venture partnership to supply IT products including tablets, notebooks and smartphones to government departments in the Government of Bihar. "We have started in Bihar State initially, but we will extend this to other states as the brand gains momentum in India. We are delighted at the fact that we will not just be supplying products, but offer post-sales support with in-country facilities," Ramesh said.
Ramesh Kumar explained that through Quantum-Beltron, the company plans to supply tablets, smartphones, notebooks, PC and servers to the Government of Bihar. "
Tamer Ismail, Vice President, Quantum, added that the Quantum-Beltron partnership not only opens Quantum to one of the fastest growing IT markets in the world, but paves the way for the company to start manufacturing its products from India in the near future.
"We intend to set-up a Global Service Centre, Global Call Centre and a research and development (R&D) facility," Ismail added. "We are excited at the prospects of working in India, a market that is well known for producing top IT and software engineers globally. The partnership will help us to further entrench the Quantum-Beltron product offerings in the public and government sector."