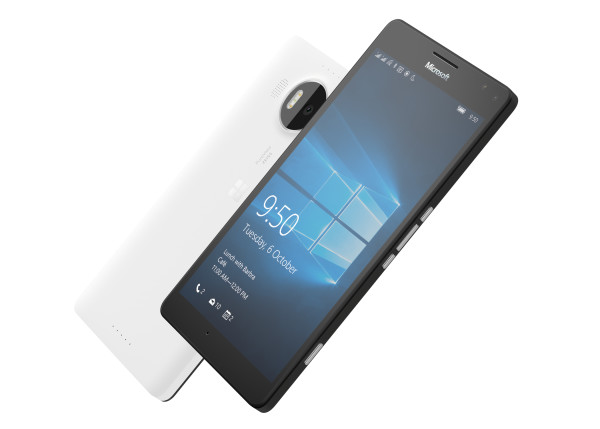 The Lumia 950 and 950 XL are great options for those looking out for straightforward smartphones with the unmatched experience of Windows 10. 
Microsoft's recent launches Lumia 950 and 950 XL are impressive smartphones equipped with a number of interesting features.
The devices come in a compact sleek design, with no sharp edges, making for a smarter look. The Corning Gorilla 4 display on the 950 XL is larger than the Corning Gorilla 3 display on 950 by 0.5 inches. Both devices come with 32 GB of on board storage and 3 GB of RAM. Gone are the days of the micro USB, Microsoft's new devices are powered with the latest USB Type – C, which is definitely a welcomed change.
While the XL comes with a better chipset than the smaller Lumia 950, both have the 20MP Carl Zeiss lens at the back, which enables for some good quality images and videos.
Users don't have to worry about running out of juice while on the XL, thanks to the 340mAh bigger battery. But that being said, having a larger screen real estate does bring the pixel density down by 46 ppi compared to the Lumia 950.
The key selling point for both the Lumia devices this year is the Windows 10 OS and the newly introduced Continuum feature. Continuum is pretty simple to use – connect the Lumia device to the Display Dock and in turn to an external display unit. Connect a wireless mouse and keyboard to this setup and the whole smartphone experience is enhanced to a different level. Customers are then able to use the smartphones' features and extend the OS onto a larger external display.
The performance on the Continuum was great with only a slight shudder from time to time. But this does not take much from the whole experience. Also, it is worth noting that the build quality of the display dock was quite robust.
Windows 10 does promise immense potential if Microsoft can find a way to get rid of the slow loading apps. Updating the software and the pre-loaded apps on the devices were a bit tiresome as it was extremely time consuming. Also, the build quality of the devices could have been much better and would have only added more to the users' experience.
Both Lumia 950 and 950 XL meet the expectations of an average user in every possible way. Also, retailing under $650, the devices are a decent option for those looking out to move from the crowded Android and iOS space.