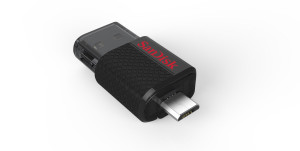 SanDisk has announced the Ultra Dual USB Drive, a USB flash drive featuring both a micro-USB and a USB 2.0 connector in a sleek and sturdy form factor. The SanDisk Ultra Dual USB Drive is designed for Android smartphone and tablet users who need an easy way to move content such as photos and videos from their mobile devices. The drive allows users to safely store and backup files, free-up space, or simply transfer multimedia between their smartphones, tablets and computers, said the company.
It provides a convenient way to transfer content via an Android-powered smartphone or tablet's micro-USB port and a computer's USB connection. While other methods of transferring files from a mobile device to a computer require wires, applications or a wireless set-up, the SanDisk Ultra Dual USB Drive simply needs to be connected to a mobile device supporting USB on-the-go (OTG) to access up to 64GB2 of 'plug and play' storage capacity. Additionally, the drive's dual USB ports feature a retractable cover, meaning no caps to lose while still keeping the connectors safe.
The Ultra Dual USB Drive is available worldwide in 16GB to 64GB capacities.