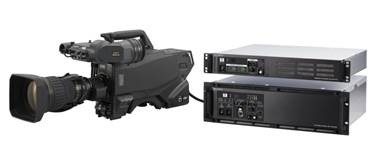 Sony's next generation of HDC series camera technology provides the ability to use the high magnification wide zoom range lenses currently employed by HD 2/3-inch systems while maintaining an adequate depth of field to properly show all the action in live event broadcasting.
The new HDC-4300 is the world's first camera to use three 2/3-inch 4K image sensors. It supports the same B4-mount lenses as well as the same control surfaces as Sony's industry leading HDC-2000 series cameras. The existing HDLA-1500 series, control and shading systems, viewfinders and master set-up units are all interchangeable between the HD and 4K systems. Directors and operators can keep their approach to live events — including camera angles, zoom ranges and iris settings – while using familiar camera technology.
The new HDC-4300 is capable of 4K/HD operation, with2x, 3x super slow motion as standard, and higher speeds up to 8x available, to produce high-quality replays and specialty program effects.
The camera uses ultra-high-precision alignment technology to realise three 4K sensor on a new prism. This allows the support of the next-generation ITU-R BT.2020 broadcast standard's widened color space for future-proof masters or post production options for today's productions shown on tomorrow's 4K services.
Additional features of HDC-4300 include, HD cut-outs – two full HD images to be cut out from the 4K picture in real-time including a selectable zoom and perspective mode. Dynamic focus (4K focus-assist function) – a focus point can be displayed on the viewfinder with a marker in 4K mode for easy focusing. Auto lens aberration compensation 2 (ALAC2) function. Plus, a wide range of colour reproduction adjustment functions.
The HDC-4300 4K/HD live camera system is planned to be available in summer of 2015.