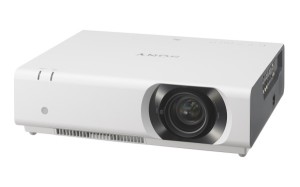 Sony's new data projectors include the VPL-CH375, VPL-CH355 and VPL-CH350 models. Each has WUXGA (1920×1200) resolution and uses a new 0.64-inch size 3LCD BrightEra panel to produce high brightness of 5,000 lumens colour light output (4,000 lm for the VPL-CH355, CH350) and sharp image reproduction. The WUXGA resolution makes the projector ideal for displaying full HD videos and high resolution computer signal formats.
The new projectors are the company's first light-weight WUXGA projectors weighing less than 6 kgs. This weight, combined with convenient installation support features, make the new models ideal for spaces where conventional high end installation projectors are not the right choice. Installation support features include: fine lens shift, HDBaseT input (for VPL-CH375 and CH355), corner keystone adjustment, H/V keystone adjustment and 2 HDMI inputs to enable a wide range of installation options.
Two of the new models, VPL-CH375 and VPL-CH355 have a built-in HDBaseT interface for easier connectivity and reduced total system costs.
HDBaseT capabilities allow installers and integrators to reduce their number of cable runs by transmitting video, audio, control and IP over a single 100m Cat5e/6 cable. The new models are designed to reduce total cost of operations, delivering optimum energy efficiency, with low power consumption.