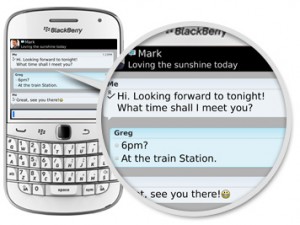 Students based in the UAE have a clear preference for BlackBerry smartphones, according to a new survey by mobility retail pioneer Axiom Telecom.
An extensive and varied sample of university-goers from across the UAE were quizzed on their smartphone purchasing habits, with 65% revealing that they opted for a BlackBerry device in the past year. 16% chose Apple, while 11% turned to Nokia for their mobility needs.
Bold 9900 proved the most popular device 22.58%, followed by Bold 9790 19.35% and Torch 9860 12.90%.
67.1% claimed BlackBerry was top of the class for its instant messaging capabilities, 58.38% hailed its good looks, 52.79% found its pricing agreeable and 52.28% emphasised the brand's "cool" factor, it was reported.
There was good news for Axiom Telecom too, as 85% of respondents stated they preferred the retailer for their mobility shopping excursions. Key reasons for doing so included the retailer's bundle offers 44%, pricing 41%, after sales service and support 33%, its ability to offer the latest products 27% and its conveniently placed locations 22%, sources said.
Another of the survey's key observations was the fact that 88% of the respondents purchased mobile phone in the past year. Looking ahead, 44% are expected to replace their device within the next six months and 29% within the next six to 12 months. 5% aim to stick with their smartphones for the foreseeable future.
But while BlackBerry is set retain its dominance among those looking for new device – 46% voted RIM for their next purchase – the gap is closing; 39% have their heart set on Apple. Topping the smartphone wish-list are BlackBerry's next Bold incarnation (26%) and Apple's iPhone5 (24%).
"The findings are extremely encouraging for both BlackBerry and Axiom Telecom," said Faisal Al Bannai, CEO, Axiom Telecom. "UAE students are among the most connected in the world and it seems that, at least of the time being, BlackBerry it ticking all the right boxes on campus. Axiom Telecom is also delighted to be singled out as their retailer, and we intend to keep it that way by bringing in the devices people want ahead of the competition, as well as refining our extensive value-added services, whether it in-store, on-line or via phone."