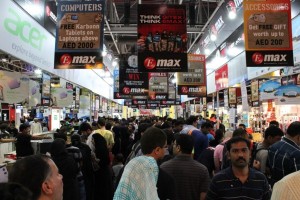 Emax, a prominent electronics retailer in the Middle East and part of Landmark Group, announced that it has beaten its initial sales projections for the eight-day extravaganza of GITEX Shopper 2012 held last week.
Emax recorded historic sales with an increase of 80% over 2011. The improved performance of the company was a result of exciting offers on new gadgets and fast moving products such as ultrabooks, smartphones, smart panels and SLR cameras, as well as bundled deals, consumer competitions and other fabulous prizes, it was reported.
A whopping 36,000 customers purchased from the Emax stand at GITEX Shopper 2012, representatives said.
All the key categories like computer and gaming, sound and vision, photography, phones and accessories did exceptionally well breaking all previous records and budgets, sources claimed. All the key brands like Apple, Sony, Samsung, LG, Panasonic, Canon, Nikon, Sharp, Lenovo, Fujitsu, HP, Dell, HTC, Blackberry, Nokia, Toshiba etc. performed well in their respective categories.

Neelesh Bhatnagar, Emax CEO said, "Following the first four days of the GITEX Shopper, our sales were already up by 70% and the momentum kept increasing with the event closing on an exceptionally high note. We have set a new standard that upscales us as second to none. Our next step now is to go all out to claim and maintain our leadership status in the industry."
"In addition, it is clear to us that the move to the ultra-convenient central location of DWTC with its dedicated metro station has certainly helped to add overall value to this year's show thus increasing footfall and boosting sales. We are now looking forward to the next GITEX Shopper that has been announced for April 2013."