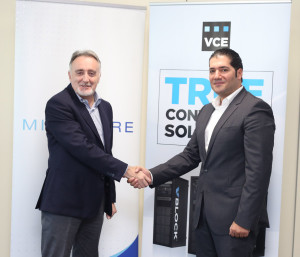 VCE, the global player in converged infrastructure has signed up Mindware as its value-added distributor across its product portfolio. The partnership extends across all Gulf regions excluding Saudi Arabia and includes Pakistan.
Said Akar, Regional Director, TEEAM, VCE, says, "VCE is a pioneering company focusing on converged and hyper-converged infrastructure. Middle East is one of our fastest growing markets worldwide. How we can cover the market and have the right go-to-market strategy in place are important factors for us. This is the main reason why we are signing this partnership with Mindware. In this region we are committed to drive our business through the indirect model. The only way for success is to have the right coverage through our channel. Therefore we need to have a value-added distributor such as Mindware in order to manage partners and systems integrators."
Mario Gay, General Manager, Mindware, says, "VCE is one of those products that has been a part of EMC family and was missing in our portfolio. We had started this journey with EMC almost two years ago. We were able to prove our value to the market and to our vendors. We were keen to add VCE to our portfolio. Our objective is to serve the market and in this regard we always look to have non-competing but complementary products in our portfolio."
Vijay Kumar, Sales Director, Virtualisation, Mindware, says, "Converged and hyper-converged infrastructure solutions are the two most important priorities for an organisation from an industry perspective today. It fits well into our portfolio and complements partners who are working in the same space. It is a value-add for our partners."
Over the next couple of months, the distributor will focus on on-ground channel initiatives and work on training and enablement activities.
Gay adds, " We will continue with our value-add model, which has two objectives, first, to enable the market and partners and second, to help the vendor to scout opportunities that can be served with our complementary products. Our objective is to be a bridge for the vendor to reach the market."