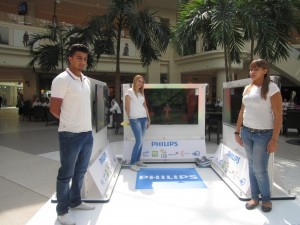 X-cite by Alghanim Electronics in collaboration with Philips have been conducting a series of mall promotions displaying the new range of smart TV's by Philips in an aim to educate customers and create awareness about the latest Smart TV technology.
This new range consists of various series of LCD, smart LED and smart 3D TV's ranging from size 32" right up to 55".  With the advent of the smart TV technology users can not only enjoy cinematic entertainment but can also browse through the web with integrated Wi-Fi system. Users can download a host of apps, control the TV from their smart phones, make voice and video calls over skype and lots more.
The new Philips Smart TV series is targeted at users looking for state-of-the-art online services and high picture quality yet at an affordable price. This smart series feature a sophisticated choice of Smart TV applications, Internet browsing, USB recording and usage of online apps, the company said. In the Philips 3D TV series, the integration of active shutter glasses technology has made it possible to display 3D movies with excellent picture quality. Philips also offers real-time, high-quality 2D/3D conversions of any 2D content at the push of a button allowing for an unparalleled cinematic as well as gaming experience.
X-cite held its first mall demonstration at Marina that took place from 18th  till the 20th of October. Promoters at the display stand interacted with customers in the mall and helped to educate the people about the various features of the new smart TV series by Philips. Customers were thrilled to experience this new technology.
Additional road shows are slated to be held at 360 mall from 25th -27th Oct and at the Avenues from 22nd through to the 24th of November.