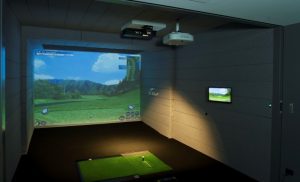 X-Golf Middle East, providers of golf-simulation experience for retailers, instructors, club fitters and avid individual golfers, has signed up for Epson's G Series projectors. The company uses Epson's projector technology for its simulator graphics, game effects, and Full HD course images to satisfy customer expectations. Along with supporting the golf simulation, the G-Series projectors enables X-Golf to provide customers with a "high level of quality" for their cinema and other entertainment applications, such as gaming and TV. According to the company, with their unique design, the projectors are engineered for easy installation and added flexibility.
Epson projectors are installed in X Golf's simulation rooms in their headquarters in Dubai. Each projector is used to display golf course simulations and images on a 4.7W x 2.6H screen.
Jason Whiley, director of Sales, Epson Middle East said, "Epson's G Series are considered the best-selling projectors in the world. This is due to our understanding of the entertainment business. G series projectors offer convenient installation tools, cutting-edge features including split screen and collaboration solutions, and advanced networking and control solutions."
According to the firm, these projectors are known for their easy installation and added flexibility. They are developed with quality, reliability and precision control in mind, which makes them good options for installation applications, with high brightness and resolution that goes beyond Full HD.
Marty Gromotka, managing director, X-Golf Middle East, said, "Dealing with Epson works perfectly for us, they continually deliver outstanding products and their support has been vital in ensuring our customers get the right solution. We provide our customers both 3LCD and laser projectors; and to date, the installations have been of exceptional quality.
Built with image quality and reliability in mind, Epson projectors enhance the entertainment experience, while offering a low total cost of ownership.