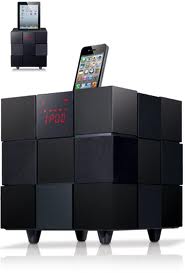 LG today showcased its new line-up of docking speakers at IFA 2012: ND8520, ND5520, ND4520 and ND1520. By offering a variety of technically advanced docking speakers with innovative connectivity features, LG is aiming to satisfy the diverse listening needs of the smart device generation.
"Smart devices have become a part of daily life and this trend has created the need for a whole new breed of intelligent peripheral devices," said DY KIM, President LG Electronics Gulf. "LG's docking speakers integrate a range of advanced technologies into sophisticated, unique designs which work seamlessly with every smart device."
AirPlay: Easy Streaming, Premium Sound
Optimised for connectivity with Apple's mobile devices, the ND8520 differentiates itself from the typical iPhone, iPod and iPad speakers with AirPlay. Thanks to AirPlay's wireless streaming capability, it is now possible to enjoy listening to music without the hassle of a wired connection or any additional devices. With AirPlay, users can also connect wirelessly to larger Apple devices, such as iPads and MacBooks.
What's more, the ND8520's easy-to-use interface allows for an entirely new user experience. A simple smartphone-like touch interface lets users easily access and manipulate all the functions of the speaker, even entire libraries of music stored on external devices. For example, swiping the screen brings up a menu for music playback while on the side, the Smart Square screen displays menus for other features such as a radio.
The ND8520 delivers surprisingly impressive sound out of its compact 2.1 channel 80W speaker. The speaker even generates strong bass with a built-in woofer and minimises sound loss resulting in music that is both crisp and rich in depth. The ND8520's eye-catching cube design is in harmony with such a premium sound and adds a touch of style to any bedroom or living room.
For additional connectivity and a wider variety of content options, the ND8520 also includes a USB port that supports MP3 and WMA playback. An FM radio and alarm clock are built in. All of these features can be controlled using the speaker's own remote control as well as LG's Bluetooth application, which can be accessed from a smartphone.
Wireless Streaming for iOS and Android OS Devices
An independent 2 channel 30W speaker, LG's ND5520 offers the greatest user convenience. It incorporates Bluetooth audio streaming allowing customers to play music and video content wirelessly. It also serves as a dual dock for both iOS and Android OS smart devices, bestowing flexibility on consumers to play the content they want with better sound, regardless of the device.
For added convenience, users can utilise their smartphones as a remote when streaming wirelessly once they download the Bluetooth remote app. The ND5520 also includes an FM radio and alarm clock. With a slim, portable design, the ND5520 features a premium white aluminum metal casing and tips the scales at only 3.6 kilograms.
In addition to the ND8520 and the ND5520, LG is also introducing the ND4520and the ND1520 The ND4520 runs on AA batteries, enabling users to listen to high fidelity music anywhere in the house.