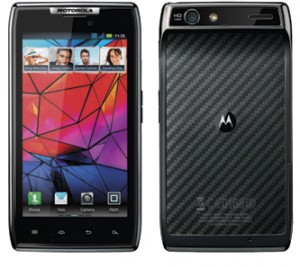 In 2004, Motorola released the RAZR, the world's thinnest phone that sold more than 50 million units within two years. Today, Motorola revives this legendary device with the Droid RAZR, but will it measure up to the glory of the original?
The RAZR is a lot more than just a slim phone. At a little over 7mm, it is by far the thinnest we've seen on the market, and it becomes a little thicker on the top to accommodate a camera (11mm at its thickest).
Gorilla Glass protects the 4.3 inch Super AMOLED display with 540 x 960 pixels and you can experience vibrant colours, even in daylight. We've heard lots of criticism about the RAZR screen but after testing the device out, we think it is pretty good. Motorola didn't ship the phone with a Super AMOLED Plus screen as we might have hoped but they sure packed the best they could from a regular Super AMOLED screen –since when have we started calling these "regular" anyway? – The screen passes with flying colours.
Kevlar on the back makes the phone durable, scratch resistant, and helps make it a really light phone at 127g. Apart from this, Kevlar definitely adds to its aesthetic appeal with sleek lines. For those of you who don't know, Kevlar is a material used to make police armor vests, so this phone could take a bullet for you! (Not really, don't try that!)
The phone has micro USB and HDMI plugs on the top, power and volume buttons on one side, and a small door that holds the 16 GB SD card and an LTE SIM card slot on the other. You will notice that you can't remove the back cover to release the battery because Motorola "shaved" a few millimeters of the RAZR by removing this feature.
Specifications
The RAZR comes with a Dual-core 1.2 GHz Cortex-A9 processor, 1 GB of RAM, and 8 GBs of internal storage. Motorola claims that the Li-Ion battery gives you more than 200 hours of standby time and 12 hours of talk time; however the phone only survived about 60-70 hours of standby and a little over 4 hours of talk time. Battery life does vary according to the signal strength but we weren't even testing it over a 4G LTE network that it's supposed to run on.
The phone comes with your standard connectivity options, A-GPS, and of course, support for 4G LTE networks.
Camera
Motorola ships the RAZR with a less-than-impressive 8mp camera. It took decent quality photos in daylight but less satisfying ones indoors with or without using its single point LED flash. The camera does however have a quick response and auto-focus rate. Video quality was a little similar in different light conditions with support for 1080p full HD video recording. With a phone of this thickness, we weren't really expecting much from the camera anyway.
Software
The Motorola Droid RAZR comes with Android 2.3.5 (Gingerbread) with all its brilliant features, and is upgradable to Android 4.0 (Ice Cream Sandwich) as soon as it's available. The phone also comes with two software features that are enough to make it stand out of the crowd between hundreds of Android devices available on the market.
Using a simple docking station for your Motorola phone, or a laptop shaped dock complete with a keyboard and a touchpad, or –our favourite, a tiny little device called the Travel Adapter, you can connect your USB and HDMI plugs on your phone to any HDMI screen and USB devices, and have a full desktop experience with your phone.
This feature is actually paving the way now to more advanced desktop applications that can be used from your phone, in fact, Ubuntu announced that their operating system will be coming to multi-cored Android devices soon; this is something we can't wait to see!
VERDICT: Aye. The Motorola Droid RAZR definitely rises up to the expectations and a whole lot more, not only it's the thinnest phone on the market, it's packed with the smartest features, and it takes a glance to know that it's –once again– one of the sexiest phones out there.
This review was done by Fahed Sabbagh – proud geek and passionate blogger. You can catch him wax poetic on all things geeky at www.nerdyface.com.