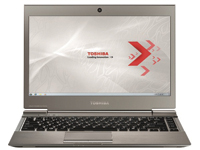 You can tell we're quite excited about the Ultrabook concept introduced by Intel since we reviewed the Lenovo U300s a few months ago. Today we're looking at Toshiba's new Ultrabook, the Portege.
The Portege strikes you as a really thin and light weight laptop; it is in fact lighter than all other Ultrabooks we've tried, weighing a little over 1kg, even lighter than the Macbook Air.
Although it comes in different versions that vary in specs and processing power, they all share almost the same shape; a 13 inch screen in a brushed aluminum silver body, really sleek lines and hints of chrome around the hinges and touchpad buttons. It looks a little less sturdy than the Lenovo but it is still well built and far from being a delicate device.
The Portege has a nice size keyboard that's quite comfortable to use, as well as a decent multitouch touchpad that supports a few multitouch gestures. Higher end business models also come with a biometric fingerprint scanner.
Specifications & performance
There are several versions of the Portege available in the market, fulfilling the needs of everyone from the average light-weight user to the more demanding business user. With processors that vary between the Inter Core i3 to the Core i7, and a RAM of 4 or 6 GBs, performance is completely different from one version to another. However, we recommend going for the Inter Core i5 version, where you will have a much better performance than the i3, as opposed to the increase you'll notice between the i5 and i7 versions, simply because you won't be able to get the full power of a Core i7 processor on such a computer.
As is the case with all other Ultrabooks, and with its built-in Intel graphics chipset, it's not designed for 3D gaming, CAD software, or any other heavy-weight software, it will run them, but one at a time.
The cooling fan on the Portege can get a little irritating especially if you're bothered by high pitched noises. It isn't extremely noisy but it is a noticeable noise.
The battery well with an average life of about 8 hours of moderate to light usage, quite as expected from an Ultrabook.
Multimedia & Connectivity
The speakers aren't that great but they aren't that bad either, you'll notice some hissing noise when the volume is pumped up all the way. You can however, connect a standard headset thanks to the separate microphone and headphone jacks, as well as a stereo Bluetooth headset through the built-in Bluetooth connectivity.
The Portege comes with 3 USB ports one of which is a USB3 and another is a sleep charge USB2, HDMI and LAN connectivity, as well as standard Intel WiFi and Intel WiDi (Wireless Display) so you can connect it to a bigger HDMI screen.
VERDICT: Aye. The Toshiba Portege is a small yet powerful Ultrabook that is well fitted with the correct features for people constantly on the move, it might not be designed for designer or gamers, but it can perform all of your day-to-day tasks. It's a heavy weight player, in a very light weight shell.
This review was done by Fahed Sabbagh – proud geek and passionate blogger. You can catch him wax poetic on all things geeky at www.nerdyface.com.