Since it was introduced earlier this year, Wi-Fi-only versions of the Samsung Galaxy Note 8.0 have come way down in price. You can pick one up for a little over Dh1,000 now, which makes it a seriously attractive contender to the first-generation iPad Mini. However, when it comes to the 3G version of the Note 8.0, prices are still relatively high, hovering round the Dh1,600 mark for 16GB of onboard storage.
So with most of the features of a top-end Galaxy device, and 3G connectivity, is the price for this version justified?
On the face of it, the specs seem pretty impressive. You get a 1.6 GHz, quad-core Exynos processor and 2GB of RAM, meaning speed is no issue. You also get a 1,280 x 800 TFT touchscreen that delivers 189 pixels per inch. That might not sound a lot, and it's nowhere near the Retina display quality that the new iPad mini will offer, but it still bests the first-generation iPad mini with ease.
The Note 8.0 actually disappoints early on with its mid-range camera – a 5-megapixel unit on the back that's nowhere near as good as what you get on the Galaxy S4 or the new Galaxy Note 3. What's more, it won't record in Full HD. That said, on the front is a 1.3-megapixel camera, which is about standard for a tablet in this price bracket, so no complaints there.
In terms of software, the Note 8.0 offers Samsung's TouchWiz interface on top of Android Jelly Bean 4.1, and presumably there'll be an update to the newest version of Android, Kit Kat, available soon. You also get a horde of pre-installed Samsung apps, some of which are more useful than others, but we'll come to that later.
And naturally, with this being a Galaxy Note device, you also get Samsung's S Pen stylus, which is easy to use, practical and responsive, and could actually be the main draw for Note 8.0 over its competitors.
Those are the headlines, so let's get into how the tablet performs.
Design and build quality
The Galaxy Note 8.0 is instantly recognisable as a Samsung device – it sports a physical home button at the bottom, plus two touch-sensitive buttons either side of it. In white, the device conveys an air of quality, thanks in no small part to the thick, plastic bezel around the screen. However, on the back, any presumptions of good build quality are lost. Yes, the rear cover is fixed in place, but it feels thin, tinny and plasticky, which is sort of unacceptable for a tablet in this price bracket – the original iPad Mini feels much better put together.
That said, what the Note 8.0 lacks in quality it does make up for in convenience. This device is thin and light, and is the perfect size for reading e-books or long articles online. However, the screen isn't quite big enough to provide an immersive video viewing experience, and because of all those plastics, the device is a little bit too slippery – it's all too easy to accidently press the back or home buttons when browsing the Web, and that often results in having to reload the page all over again. That becomes frustrating, but no doubt a decent third-party protective cover would help in that department.
On this version, you get 3G connectivity – there's a slot for the SIM card in the back, and you can even make phone calls with the device. You'll look completely idiotic if you do, though, so best stick to a hands-free set if you are planning to make calls with the Note 8.0. Be warned, though, the combination of on-the-go surfing and keeping the screen going drains the battery like no-one's business. With heavy use, you'll be lucky to get five hours out of one charge.
Performance
The Note 8.0's performance specs fit nicely into the premium price bracket that it has entered. Benchmarking tests reveal altogether acceptable numbers, but put the device slightly below the Sony Xperia Tablet Z and the Google Nexus 10. Unfortunatley, our frame rate test showed that the Note 8.0 delivers about half the frame rate of a top-end smartphone, again suggesting that this device isn't a great option for consuming video content. Meanwhile, our SunSpider web browsing test returned a time of just 610 milliseconds, which is faster than pretty much anything out there – even the top-end iPad 4. This again makes the case for the Note 8.0 as more of a device for reading and browsing.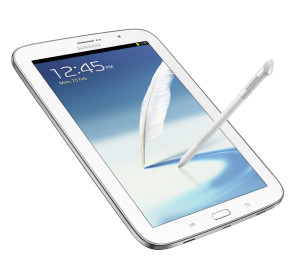 Software
Any newcomers to Android might be scared off by Samsung's busy TouchWiz interface, but seasoned Samsung buyers should be happy enough with what they're given. That said, as fans of Samsung products in general, we were still annoyed by the way that the apps are arranged on the home screens. With six columns available, it's impossible to put widgets at the centre of the screen, meaning you have to position them slightly to one side. For anyone who likes a clean, organised home screen, it's almost intolerable. Your only option to keep things symmetrical is to go down the iOS route and simply have all your apps sitting in rows – but then why wouldn't you have an iPad?
In terms of the apps that Samsung bundles with the Note 8.0, you might be unpleasantly surprised to find out that they actually eat up 7GB of the available 16GB of storage – and that's before you start downloading your own stuff. This makes it essential to expand the device's storage with a microSD card, which seems like a lot to ask of a customer buying a premium device.
That said, some of these pre-loaded apps do come in very handy, particularly ones that are linked with the S Pen stylus. Apps such as S Note, Paper Artist and S Planner turn the Note 8.0 in a reasonably productive interactive notepad, and the handwriting recognition function is actually pretty good.
What's also pretty good is the Multi-window feature, which isn't actually an app but it's still very useful as it allows proper multi-tasking by showing you two apps on the screen. The 8-inch screen is just about big enough to accommodate this, and you'll be surprised by how much you use it.
Verdict
There doesn't seem to be much of an argument for the 3G version of the Galaxy Note 8.0 over the Wi-Fi version, simply because it's so much more expensive. At that price, you'd expect something much more closely aligned with the iPad mini, but that's not what you get. Instead, you get a decent tablet that costs about Dh400 too much. The Wi-Fi version, however, is priced just right.