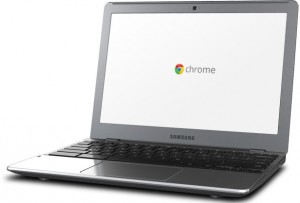 A year ago, we saw the first Samsung Chromebook and we were left feeling pretty underwhelmed with it. Not only was the hardware clunky and slow, but Google's much-anticipated Chrome OS was far more basic and limited in what it could do that we were expecting.
The whole aim of Chrome OS was to embrace cloud computing: the low-spec laptop in your hands didn't need to be powerful or have much storage as everything was done through the Chrome web browser.
Of course, the obvious drawback was that as soon as the 'net connection was removed, the Series 5 turned into a useless paperweight. Needless to say, it wasn't a hit with customers.
Rather than accept defeat, Google has rallied with a new version of Chrome OS and, along with Samsung, some new hardware in the form of the Series 5 550 Chromebook.
The hardware
The 550 isn't that different from the 500 it replaces – most people would be hard-pushed to tell the difference at a glance. The keyboard and touchpad, for example, are the same with the slightly controversial key layout which ditches function keys – and even the Caps Lock and Delete keys – for Chrome OS-specific buttons.
Keyboard and touchpad
Where the Caps Lock key should be, a magnifying glass resides and opens a new browser tab. Above the Backspace key, where Delete is traditionally found, is the Series 5 550's power button and, to the left of it is a series of 'function' keys for brightness, volume, back, forward and taking a screenshot.
Given that the 550 is as thin as an Ultrabook, it's no surprise that the keys have short travel. That isn't the problem though: their springs are slightly too stiff which means it's too easy to miss a few letters when typing quickly. Keys are full size – as big as a desktop keyboard's – but the short spacebar (necessary to cram in the cursor keys) is a frustration if you use it as a point of reference for other keys.
Google says it has re-written the touchpad driver to make it more responsive, and we can tell the difference. It's disappointing that isn't better support for gestures, though. Two-fingered scrolling is possible, but there's still no pinch-to-zoom or swiping.
To click, you simply press anywhere on the touchpad, but you can also tap to single-click as well. Right-clicking takes a bit of getting used to as you have to click the pad with two fingers on it.
Screen and ports
The 12.1in screen is nothing to write home about. It has a standard 1280 x 800 resolution, a non-reflective matte finish, reasonable brightness and average contrast. Viewing angles aren't great, so colours shift as soon as you tilt it forwards or backwards.
A single USB port can be found on either side, with an SDHC/SDXC card reader on the right-hand edge. Along the left side is a combined mic/headphone mini-jack port, a gigabit Ethernet port (which has to be opened before connecting a cable) and a full-size DisplayPort ++ output.
The latter two connectors were missing from the original Series 5 Chromebook, but DisplayPort (especially full-size) is a rare and odd choice. No converter or cable is included in the box, so you'll have to buy one if you want to hook up the 550 to a screen which has HDMI, DVI or VGA inputs.
Battery and performance
The non-removable battery lasted around six hours in our test, which involved using the laptop during a normal working day for checking email, various websites, creating documents and watching a few videos over lunch.
Inside, components have been beefed up. Gone is the puny Intel Atom processor, replaced by a slightly less puny dual-core Celeron. RAM is doubled from 2GB to 4GB, but there's the same 16GB SSD for limited local storage. The Chromebook felt fairly sprightly, even when running more than 10 browser tabs. It was also super-fast to boot up and resumed from standby in a couple of seconds.
With the recent launch of Google Drive, the limited local storage is less of an issue than it was. You can store all your documents and files in the cloud (Drive gives you 5GB of free storage, and Google Docs formats don't count towards this). You can upgrade to 25GB for $2.49 per month (approx. £1.60). Of course, you can also use the SD card reader and USB ports to add local storage.
The software: Chrome OS
We'll come back to local storage shortly, but let's deal with the most important aspect of the new Chromebook: Chrome OS. Arguably the biggest change is that there's now a desktop – the OS doesn't boot straight to a Chrome browser window.
The desktop makes Chrome OS feel a lot more familiar to Windows users, especially when it comes to launching apps. By default there are a few 'pinned' app icons at the bottom, but you can see them all by clicking the icon which looks like a white Rubik's cube.
App icons are displayed in the same fashion as those in Apple's Launchpad, but all run in a Chrome tab, since they are all still web apps. It's now possible to resize these windows and run two side by side.
A new square icon at the top-right can be dragged down to minimise the window, up to maximise and left or right to make the window smaller. You can drag tabs out of a window to create a new window and resize them as you would in Windows. Although it's a minor change, it makes a big difference to the Chromebook's usability.
Offline apps
It's clear that Google has put a lot of effort into the Chrome Web Store as there are many more apps to choose between than before. Without these, a Chromebook would be little more than a web browser. Of course, one of the biggest complaints about the original Chromebook was the lack of an offline mode.
To some extent this has been addressed with a collection of offline apps – a new category in the Chrome Web Store. These include several Google apps: Docs, Gmail, Calendar, Drive, plus unofficial apps for other services such as Google Tasks. There are also plenty of games, such as Angry Birds, so you can have some fun when there's no internet connection.
You can also view (but not edit) files offline from the internal storage, a USB drive or an SD card. Chrome OS supports mp4 videos and documents including the latest Microsoft Office formats, PDFs and .txt files.
Photo formats include .jpg and .bmp but no raw files and can be edited offline – the altered images are saved in the Downloads folder. Edit may be too strong a word, though, as you can only crop, rotate and adjust brightness.
Offline support for Google Docs is brand new. You can view files synched in Google Drive but it's only documents (not spreadsheets, presentations or other types) which can be edited offline. It's a start, but it's still a disappointing limitation.
File manager
Another disappointment is the rudimentary file manager. The contents of the internal storage are in the Downloads folder, and other drives are displayed below this in the left-hand pane. On the right, the actual files are shown, but you can't do much management. It isn't possible, for example to drag and drop a file from the Downloads folder to a removable drive. Instead you have to copy and paste it.
Printing
In Windows, one of the benefits of using Google Chrome is that it can print to any printer that's installed on your computer. With Chrome OS, you can't install a printer driver so you're stuck with using Google Cloud Print.
This requires either a printer which explicitly supports Cloud Print or for the printer to be connected to a computer which has Cloud Print connector installed. Old network printers are, therefore, out.
When you choose print, you're also given the option of saving the document as a PDF on Google Drive.
Backup
Thanks to the fact that the Series 5 550 Chromebook runs only web apps, there's nothing to back up. Your documents are automatically backed up in Google Drive. When composing an email, you can attach files from Drive, as well as pin files (mark them) for offline viewing.
This also has the advantage that, should your Chromebook be lost, damaged or stolen, you can carry on from where you were simply by logging into your Google account when you get a new one.
Our verdict:
We're using the cloud more and more, but Google is too far ahead of the curve with Chrome OS. The updates have made it more usable, but what you can do offline is still too limited, and the file manager desperately needs improving. We could moan that it isn't possible to do certain things via a web app (video editing still isn't practical in the cloud), but that would be missing the point: Chromebooks are aimed at people wanting a cheap, portable laptop for basic web tasks.
The problem is that one of the ingredients is missing: cheap. Samsung's Series 5 550 isn't a bad laptop, but it's far too expensive at £380 for the standard version (the 3G model costs around £430). For this price, you could buy a decent budget laptop, despite the fact that a good chunk of the money goes to Microsoft for Windows. Such a laptop would be far more versatile than the Chromebook, and you'd still get the benefits of all Google's cloud-based services. It may not turn on as fast and require some housekeeping in terms of updates, but at least it will still work without an internet connection. Had the Series 5 550 been closer to £200, we'd have liked it a whole lot more. As it stands, there's still no reason to choose Chrome OS over Windows.