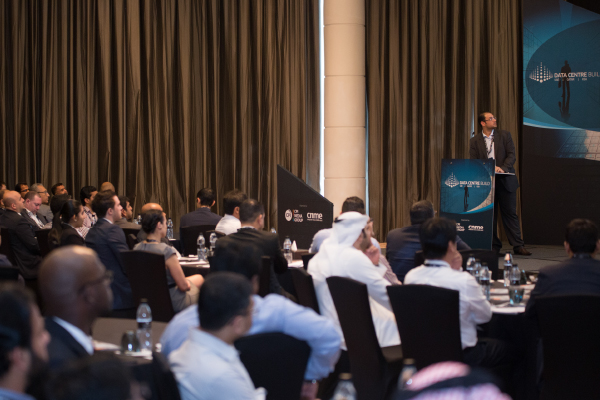 Back once again for its third annual outing, CNME's Data Centre Build roadshow reached Riyadh, Doha and Dubai, drawing in scores of IT decision-makers and industry figureheads to reflect on how to design and optimise the vital foundations of IT infrastructure. We report from the Dubai leg of the conferences. 
The data centre constitutes the base layer of any reliable IT infrastructure. However, the age when top-notch hardware sufficed in powering IT infrastructure is on its way out. As the appearance of software becomes increasingly pervasive within the data centre, and as cloud and mobility drive business agility, CNME kick-started the Middle East event season with a forum on how to get the best out of those all-powerful racks.
Starting things off was Mazen Arawi, Internet of Things Senior Architect, SAP, to discuss how the power of the IoT would necessitate fresh data centre strategies. "Only once you know how to integrate data into the business can you really add value to an organisation," he said. "In this day and age it's essential to simplify and reimagine businesses through optimising data centre infrastructure and services, and by transforming business models."
Jude Pereira, Managing Director, Nanjgel Solutions, followed up by highlighting one of the most important trends in any modern data centre – security. He advocated automated threat response as a means of streamlining IT operations. "Security was not a priority a few years ago, but now there is pressure to be agile and secure in the data centre," he said. "The reality is that although we have not been able to address the current challenges of data centres, a new breed is coming, with more than 50 percent of data centres set to be cloud-based. No matter how advanced your firewalls and other security software, if you don't get real-time data, you remain vulnerable. If your systems are automated, however, securing data centres and deploying new servers and applications can be a less tedious and daunting task."
Third on stage was Gulftainer's IT Manager Vinay Sharma. Sharma began with an outline of Gulftainer's business – operating ports across the UAE, Lebanon and even as far-reaching as Brazil – and the critical importance of IT to the organisation. He went on to discuss how once the company began expanding its operations beyond the Middle East, senior management demanded an overhaul of the company's IT infrastructure. The foundations of change began in the data centre.
"The support of key figures in the organisation is important when implementing a data centre transformation strategy," he said. "You face a range of challenges including CAPEX investment, reducing risks and doing more with less. The data centre plays a big role in the transformation process. An organisation's ability to adapt with changes in the IT industry is key to seamless data centre transformation." Sharma went on to describe how following a vast overhaul of the data centre and its processes, encompassing a range of fresh technologies, Gulftainer's operations have become crisper and had less interruption.
Next up was Ramih Mahmoud, Network Engineer, Business DNA, who described how disruptive technologies are changing the data centre landscape. "Data centre infrastructure has undergone major changes as Big Data and mobility have progressed," he said. "At the same time, virtualisation adoption is among the key priorities of IT leaders for their data centres."
Wrapping up proceedings was Mike O'Hara, Senior Technology Consultant, Hitachi Data Systems, who discussed the potential of the 'converged data centre' and the journey to private cloud. "Consolidate, virtualise, automate and be flexible – these are the key steps in achieving success in private cloud," he said. "The need to control rising management complexities and operating costs has created a need for advanced data centres. Data growth, technology complexity and infrastructure refreshes have been game-changing."
Speakers from the Riyadh leg of Data Centre Build included: Mahmoud Ahmed Abdelhaleem, SAP Business Analytics Solutions Consultant, SAP; Javed Abbasi, Director, Gisba Group; Yaser AlKhateeb, Head of Services Marketing, and Omar Zahnan, Senior Solution Engineer, Data Centre, Huawei Middle East; and Ahmad Enaya, Technical Manager, KSA, Aruba Networks.
The Doha speakers were: Mubarik Hussain, Head of IT, Petroserv Limited; Chris Leahy, Director- Technical Facilities, MEEZA; and Maher Farraj, North Gulf Sales Manager, Hitachi Data Systems.