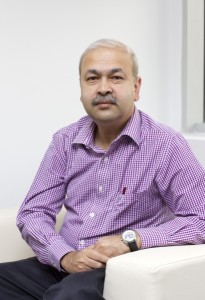 The decade-old, value added distributor, Comguard, which is a part of the Spectrum Group, has seen around 10 to 30 percent growth in the last year. It aims to extend its channel reach and have continued initiatives for educating partners on products, which it believes is key for being successful. With an extensive customer base across 23 countries in the region, the company has recently shifted to a bigger office in Dubai, which is owned by the company, further establishing its credibility and strength in the channel. Reseller ME catches up with Ajay Singh Chauhan, Group CEO, Spectrum Group to get the lowdown on the company's perspective in the changing landscape of the channel.
What kind of opportunities do you see in the region?
This is definitely a key market for us. We are seeing large government projects being signed off now. We see the region being more stable than last year. Globally too, we see more stability.
What have been the key highlights for Comguard in the past year?
Structurally, we have not done anything different in the last couple of months. Though we have added some more product lines, the strategy still remains the same. We are focusing on geographical expansion, we have added more number of people in territories.
What is your market differentiator?
The differentiator is the number of technical teams we have as compared to the ratio of our sales people is definitely the highest in the industry. We would probably be at a ratio of 1:1 and I'm certain this is not the ratio with any other organisation. This means resellers who do not have expertise will feel more comfortable with us. We have a set of people helping old resellers who might have got the capabilities but may not be aware how to go about it. At least they can be educated about newer products and what can make money for them. Knowing that product knowledge is critical to go forward, we have invested in it, since day one.
What is the biggest challenge you are facing in the region?
Retaining current staff is a big challenge for us. Although we explain the role of the work environment and company policies, it is still quite difficult. Increasing the compensation alone doesn't solve the problem because to what extent can we go? If we do change the compensation then it has an impact throughout the company. Instead, what we try to do is expose them to the different technologies that we work with. And this way try to make them feel more content towards work. We hope this helps in retaining them.
How do you remain profitable in this space?
It is difficult as it is getting very competitive. Margins are slim, so we need to have more turnover. But more turnover on a particular product line may not be the solution. Maybe then, we need to probably sign more products. These are the only ways of achieving growth. We do introduce new products and before it becomes a commodity, we are able to get good margins but once it becomes a commodity then there is a margin pressure as there would be multiple distributors. Initially we try to sign exclusivity for some period, which allows us to get some kind of lead.
What are your channel expansion plans?
I want to achieve the depth in the current channel itself. This means everyone should know all about our products, which is not easy. We are also looking at identifying the profile of partners we require. This is a dedicated activity that is not driven by sales but only as a role.
What kind of partner initiatives do you have?
We have vendor based initiatives. We are working on a partner programme, where our objective is to roll out a Comguard partner programme. This will validate satisfaction levels of our partners, both on vendors and channel side. We also want to get a loyalty programme in place. Through this new initiative, we are trying to do something unique in the market that should help us in the long run
How do you see the space evolving in the next few years?
Cloud being the way forward, we do see it evolving further. But it is too early to say how it will shape up, at the moment. And we are yet to see how the distribution of cloud-based products will happen. However, the future is definitely there. Even in the US, there is no active distribution of cloud based products through distributors. It is being done directly.