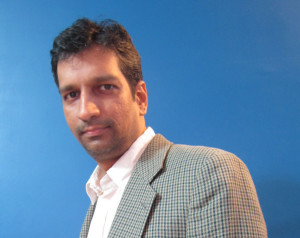 Rauf Chougle, Group General Manager, SNB Middle East, discusses the opportunities and trends present in the surveillance security market in the region.
The three-year-old company, a relatively new entrant in the space has captured a huge chunk of the market in a very short time — in UAE alone, it has gained around 40 to 50 percent in storage solutions, which is an important component in surveillance projects, in the hospitality sector. And is now looking at expanding consistently, aiming to go beyond the current countries that they cater to, which includes Qatar, UAE, KSA, India and East Africa. With this game plan in mind, the company debuted at Gitex last year and also made its first appearance at the recently concluded Intersec last month.
Rauf Chougle, Group General Manager, SNB Middle East says the company intends to have a strong presence in the CCTV surveillance segment. "When you look at the market you will notice that the laws are changing in the CCTV surveillance segment. This segment will see many enhancements and will be a lucrative market for us. We aim at providing our customers and partners complete solutions, such as cameras, video managing software, storage and connectivity."
Although a Dubai-headquartered company, it gets phenomenal business from Abu Dhabi and Qatar, largely due to the compliance regulations in these countries, says Chougle. Unlike other countries in the region, Abu Dhabi government has made it mandatory for the resolution of security cameras to be higher. Similarly, the ministry of Qatar has also passed laws on what the specifications of CCTV surveillance cameras should be in various industries such as hospitality, banking, healthcare and entertainment centres. Chougle points out, "The difference, compared to other markets, is that the surveillance requirements in most of the territories is driven by the end customer. But in Abu Dhabi and Qatar, it is driven by the ministry."
Starting out as a distributing company solely into data storage solutions in 2010, it decided to cater to other segments, considering the overwhelming demand from resellers and the way the market was going, says Chougle. Security surveillance was one of the first segments it got into and today, it provides end-to-end security solutions.
"Security has evolved over the years. It is dynamic when you see places such as Abu Dhabi and Qatar, where the end customers don't have an option but to go with the ministry's compliance rules. Other regions, which don't have compliance rules, are open and realistic in terms of their requirements. It is definitely a growing market. We have been successfully growing more than 100 percent for the past two years," he says.
Last year the value-added distributor also ventured into IT security and plans to focus on all its technologies—data storage, IT security, networking and security surveillance—in this year. "But within the company we are calling it the 'consolidating year'. Apart from concentrating on these four technologies, we want to bring newer and stronger brands into the existence portfolio and reach out more," Rauf explains.