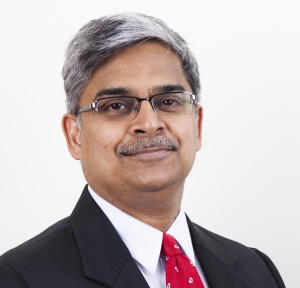 Premchand Kurup, Chief Executive Officer, Paramount, shares trends in information security and how it impacts the systems integrator's business.
Could you give us an overview of Paramount?
We operate in a niche business – information security. Right from the beginning when we diversified into this space in 1999, we took a call that we will solely be in this business.
Today, we are just about inching towards 100 million dirhams and we have 102 employees, out of which 77 percent are security engineers and security consultants, making our employee base strong. We support a large number of clients, across all verticals – oil and gas, telecom, airlines and transportation, government and banking. We are present across the region with offices in Bahrain, Dubai, Kuwait, Qatar, Abu Dhabi and Oman.
In the year 2008, we did a management buyout. The original owner wanted to return to India. At that time, I constructed a small management team and as managers we invested in buying the company. This has given our managers an opportunity to be entrepreneurs.
What are your future plans?
We will continue to work with our key vendors, there is a level of dependency on them. There is also an important issue that we have to always grapple with – large vendors are always on acquisition mode. You may do business with a niche company in the security space then you have a large company such as EMC or McAfee buying them over. That sometimes changes the channel strategy, unless we see all this happening in advance and we are able to make the right moves, business could be difficult.
Could you discuss some trends that you are noticing in the information security space?
The first thing to understand is that you cannot protect yourself from an external threat environment that is dynamic with an internal process framework or architecture that is static. With external threats being massive and the level of sophistication of the attacks being so high in the last one year, customers are forced to constantly keep changing their controls, resulting in tremendous amount of business opportunities for companies like us. We gear ourselves internally by enhancing our knowledge and skill set, by bringing in new technologies and also expanding our scope of relationship with the big security players. Another trend is that CEOs today are becoming aware of the need to invest more and to have a high level oversight on security.
Mobility, cloud, Big Data and social media have got an impact on the way one articulates security. We, as a company, are looking at multiple strategies in these four areas.
When customers come to you today, are they demanding solutions in these four areas mainly?
The answer to that is not yet in a big way. This is because security started off in the Gulf only in 2002, and in the last 12 years, there have been different types of technologies implemented in the region that amounts to about $2 billion or so. But in excess of 60 percent of these technologies have been either implemented or configured or integrated incorrectly, right from day one. And in most cases, many of them have gone out of configuration during the last few years. First challenge that most customers face today is technology optimisation. This is the biggest market opportunity. Unfortunately, there aren't enough number of players in the marketplace because technology optimisation requires a significant amount of expertise.
The firewalls and the IPSs have also moved to the next generations. Most customers are looking at firewall or IP refurbished projects, which is given priority over cloud and Big Data. Although, customers do come to us for implementing BYOD technologies. The biggest challenge in this region is the lack of expertise.
Anything else you want to highlight?
We need to see a better balance of the budget utilisation. We are going through the next phase, between 2014 and 2020, we will see tremendous amount of changes on all aspects of security.