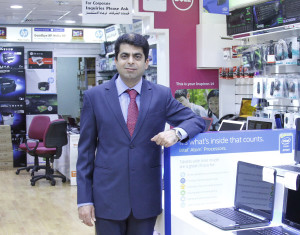 Harish Kanjani, General Manager, Computer Care, discusses the challenges of doing business in an evolving channel environment. 
Even with the advent of power retailers, the resellers at Dubai's Computer Plaza and Computer Street continue to be important elements of the regional channel ecosystem. They continue to strive through the struggles of low margins and fierce competition. But what helps differentiate themselves in the market is their customised level of services, which brings about a dedicated set of customers.
Although competition from power retailers is a definite challenge, there are several factors that differentiate these resellers, says Computer Care's General Manager, Harish Kanjani. "Customers can come to us for good deals and better prices throughout the year and not only during events such as DSF or Summer Surprises. We ensure we offer personalised services to our customers, we take the time to know and understand the customers' requirements and they have been coming to us for years.
"Also, as we are a smaller business compared to power retailers, we are not bound by policies and procedures, the management is directly involved with customers. We are nimble and can make the required changes quickly."
Operational for almost two decades, Computer Care Group, a regional reseller and retailer has seen the market evolve. Today, it carries products from global vendors such as Lenovo, Toshiba, HP and Acer. Kanjani says, "The vendors are doing a great job of supporting us. However, there are some challenges. For example, in some product lineups there tends to be a price difference. Of course, this can be attributed to value chain costs as well as for shipping, import and taxes. But often consumers buy these products globally at a different price, which then impacts us here.
"There's also the lag in time to market of certain products. Consumers today are eager to get their hands on the product as soon as possible. In such situations when the arrival of the official product into our market is delayed, we may lose out on the business of the early adopters."
Catering to a wide base of customers and businesses, Kanjani adds that a place like Computer Plaza is most ideal for SMEs. "When they come here, they can see the variety of the products from many brands and also have the option to browse other stores."
2014 was a challenging year for the channel partners as the landscape remained highly competitive. However, the reseller was able to keep a steady pace in its retail division while also growing its commercial business. "Our new corporate office at Al Ain Centre has played an integral role in this," he adds. "We are also expanding our product line up with new partners in our store at The Dubai Mall. This is done by taking into account the evolving technology spending habits of today's consumers."
Today the channel players are still not paying too much attention to online and social media activities. However identifying the opportunities this space can offer to the business, the reseller is ramping up its online presence and is in the process of revamping its website. "We're also paying special attention to our service division. We're expanding the division and making the necessary investments in the right resources."
According to Kanjani, the market has become hard to predict. "Given the currency fluctuations and other environmental factors, export business is negatively affected and thus we can't account for it like we used to be able to. Also, the influx of grey import products' impact on price levels as well as warranty and support services is another challenge."
The reseller is working towards ensuring profitability is not a challenge in 2015 and therefore, the focus is going to be more on corporate and SMEs. He says, "In 2015 we're hoping to continue our growth by making the right investments in a growing team and infrastructure. This will help us streamline our operations as well as improve our customer service. We aim to stay as close to market trends as possible so we can continue to deliver the right kind of products to customers based on their needs. Finally, we'll focus on digital channels as an opportunity to grow our business."
With showrooms in Computer Plaza and The Dubai Mall, the reseller has the strength of about 50 people in its team and has a certification of ISO 9001:2008.