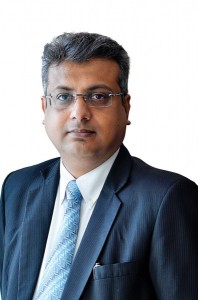 Founded in 1976, HCL InfoSystems initially specialised in the assembly of micro processor based devices and soon introduced India's first indigenously produced desktop computer around the same time as IBM and Apple did in the USA. In 1991, the company embarked on a journey of expansion reaching out to enterprises in the Far East and Americas with their ITES services.  Today, HCL InfoSystems is one of the largest system integrators in India.
In 2012, HCL successfully completed the acquisition of a Dubai-based company called NTS, that began in 2010 and thus was born HCL InfoSytems MEA. Today the very same company boasts partnerships with major vendors such as HP, Microsoft, CA, Autonomy, SAP, Oracle and EMC among others. In addition, HCL InfoSystems has also successfully launched the HCL Mobility line of tablets and smartphones that are available across all major retailers in the region.
Shivkumar Gopal, CEO at HCL InfoSystems MEA says, "We describe ourselves as a business IT company, what that means is we provide solutions keeping the business in mind. A major part of our offerings are vertical driven, we call these lines of business (LOB), and each comes with a dedicated delivery and domain expertise. As a global company, HCL decided to invest in a local entity because we saw huge potential in the local market as well as the broader region. Post recession most companies have realised the potential of IT and view it as a profit centre that contributes to an organisation's ability to enhance revenues and reduce operational expenses. This has created an opportunity window for players like us to leverage a 'first mover advantage' in niche areas of IT infusion linked to revenue driven growth."
Gopal says that HCL InfoSystems MEA has a strong focus on the BFSI market having worked on 85% of the region's BFSI sector's physical security implementations. In addition, the company boasts a managed services contract with a prominent gulf airline, with HCL provisioning their crew scheduling needs, flight engineering, pilot briefing, ERP in addition to their HelpDesk operations.
"Our strategy is to establish a stronger presence in the telecom and e-commerce and the vertical focused application space and we are also working on creating more value for our customers by providing applications to cater to  the enterprise business requirements via our HCL Mobility line of products that are mostly based on the Android OS" he adds.
Gopal believes that IT investments in the Middle East are on the steady rise particularly across the managed services space.
"The nature of doing business has changed, CIOs now are looking at cost cutting and consolidation and focusing on how they can bring value to the business through innovation. The scope and definition of managed services however varies across business domains. For instance, across the BFSI segment, outsourcing the back office which is essentially non IT could be seen as managed services. The line between IT and non IT is still blurry in the region. However, the region is fast maturing and more organisations are investing towards their focused goals. In the Middle East, remote infrastructure management is not a standard practice. Companies here prefer a hybrid model that requires people on site or a model that has dedicated outsourced staff within the account. Local expertise is always an added advantage to doing business here. With our understanding of the market trends, we are geared up to meet the customers' requirements. We are happy with the way the market is looking and the business we are doing. Although we are still taking our initial steps in the region, I must confess that we are moving pretty fast," he adds.
On the topic of cloud adoption, Gopal says that while CIOs in the region are keen on investing in any technology that enables cost reduction they are most focused on provisioning maximum data security. "Cloud is technology that needs to be properly projected to customers instead of using it as a buzzword. Vendors and partners have positioned the cloud as a solution in their portfolio and not as a solution that the customer requires."
This ability to push the right products to the right customer at the right time is what Gopal believes is the company's key differentiator.
"HCL is a company that believes and works on references. We work hard and smart through an LOB based approach towards making every customer a 'reference-able' customer. We study the market and shape ourselves based on what the market demands. We give our clients and partners access to a local pool of technical resources. We don't want to compromise on quality and always work towards exceeding expectations at a price that is beneficial to both parties. Over the last two years we have achieved this goal and are proud of our successes. We consciously think and understand requirements, realise our own delivery capabilities, define the scope of work and price expectations to ensure we do not promise what we cannot deliver," Gopal states.
HCL InfoSystems is equally picky about its choice of vendor partners. "We believe in the concept of marriages, where one covers another's weakness with a considerable strength. This is what we bring to our vendor partners. We work on a win-all strategy that benefits the entire ecosystem, we are seen as a SI with keen business acumen- a reputation we pride ourselves on. We quote to win and learn from the losses, so we work with our partners on all fronts, from pricing to business strategies. We partner with vendors not just for the prices they offer but for their ability to support us and their ability to add value to the existing business. Most of our relationships with our key vendors have been in place for more than 20 years and we have grown together creating value for each other," explains Gopal.
Gopal says that while the company has enjoyed significant growth there is still some way to go.  "At HCL we believe every challenge leads to an opportunity, so while some may see the MEA market as abounding in challenges we see mounds of opportunity here.  We build our strategies with a clear mission and vision so as to mitigate any possible challenges. In business, the core strategy remains constant however success is defined by how an organisation adapts its strategy to align to larger external changes."
"While we continue to focus on our current strategy, we will also look out for changes in the external landscape and investment patterns to ensure we stay ahead of the game. On the vertical business front we are actively shifting our focus to the education and healthcare sectors. In the case of the former, we will leverage the steady experience we have in the education sector in India where our dedicated business unit has specialised in the deployment of virtual classrooms, creating student information portals and digitisation education content. We will take this a step further by Arabising digital content and venturing into the application of RFID and security deployments to help parents and students feel safer. On the healthcare side, HCL InfoSystems will partner with third party vendors or OEMs to cater to infrastructure and other specialised solutions," he concludes.