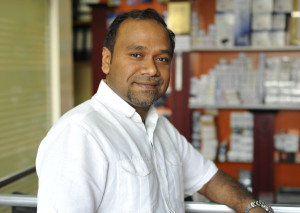 Nazeer C. P, Managing Director, Buraida Computers, highlights the issue of low margins in the channel and how partners can survive it. 
In the highly competitive regional channel environment, low margins continue to be the crux of resellers' vexation. Nazeer C.P, Managing Director, Buraida Computers, reaffirms this conundrum and says, "The biggest challenge for a reseller today is how to increase the margins?"
Buraida Computers has been in operations since 2005 and has witnessed the growth as well as the difficult period of the economic downturn. Terming themselves as a dedicated specialist in consumables such as toners and cartridges, it is an authorised reseller of HP and a business partner of other brands such as Canon, Xerox, Brother, Lexmark and Samsung. With around 60 percent of business coming from HP alone, Nazeer says the competition is steep. "As the margins are low in the consumables business, we are thinking of diversifying our product range and focus," he adds.
Nazeer plans to introduce networking and storage products to his portfolio and is thinking of focusing on a different customer segment to ease the pressure of low margins. In another attempt to maintain the margins, he has also opened a second store last year, 'Office Me Office Supplies' which directly deals with corporate customers for office supply products. He says, "Right now we get only around 4 to 7 percent margins with rebates considered. The office supply store is a small beginning but we are looking at growing and utilising market opportunities. Right now in the dealer channel market, there is heavy competition in the computer business."
Being a member of Dubai Computer Group (DCG) for the last three years, Nazeer explains that this is the key concern for the association and it is focusing on finding a way out. "DCG is trying to solve this issue, perhaps if all the shops followed a fixed price system, then at least everyone could maintain the same margins."
Another concerning issue in the channel today is counterfeit products. Nazeer urges customers and partners to deal with only authorised and audited partners to avoid this problem.
He says, "Non-partners usually indulge in such activities. When people mix the products within a batch of products, it is difficult to identify the fake ones. Vendors can help in putting a stop to this and I know vendors such as HP are closely monitoring the market. HP has audited our premises for anti-counterfeit and we are the genuine HP supplier."
Buraida Computers has been growing at an annual rate of 20 percent year-on-year, even with the current market scenario. But there is no time to rest on your laurels, says Nazeer. And also admitting that 2014 has not been a particularly good year, he adds, "We are looking at maintaining our customer base in the UAE and also looking at expansion to other countries, provided we have the right partners and the right team in place."
Having already surveyed the Qatar market, Nazeer is keen on taking the business to greater heights. He says, "In 2015, the main focus for us will be to increase our margins, look at adding other product lines and expansion. I have always been confident of facing any kind of challenging market environment which has helped us to grow."
Being a reseller partner of various distributors such as Redington, Metra and Despec, the company will be soon working with Logicom as well for its recently acquired HP Supplies business.