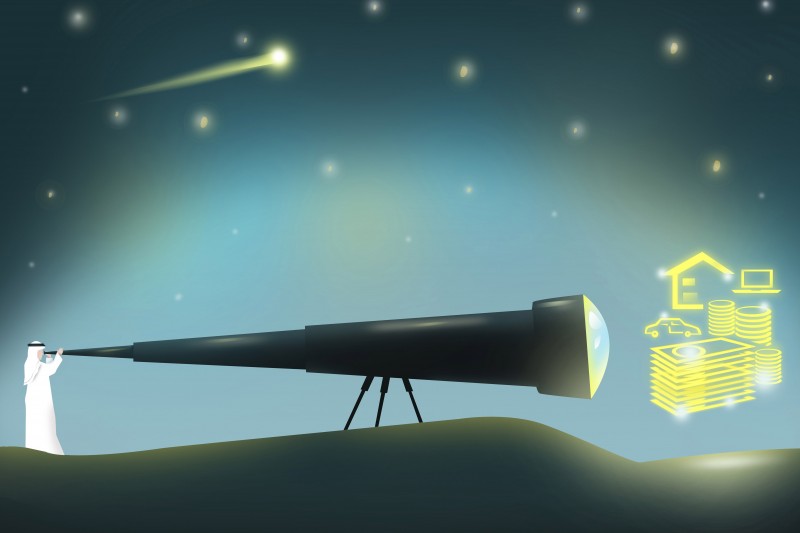 It seems that Saudi Arabia's pledge to make technology a key pillar of Vision 2030 was far from hollow.
The country's Public Investment Fund (PIF) – the world's largest sovereign wealth fund – has committed a whopping $45 billion investment into Softbank's recently launched $93 billion Vision Fund, which has become the world's largest technology investment vehicle.
In some ways, the move asks more questions than it answers. A key pillar of Saudi Arabia's Vision 2030 – launched in April 2016 by Crown Prince Mohammad bin Salman – was to slash public spending in the wake of a $100 billion deficit in 2015. Nonetheless, it now finds itself pouring almost half that sum into an international technology fund.
Back on home soil, meanwhile, it has almost been forgotten that telecoms giant STC has pledged to set up a self-financed $500 million venture capital fund to invest in homegrown tech start-ups. Last December, STC also committed to purchasing a 10 percent stake – worth $100 million – in car booking firm Careem.
As part of its wide-ranging economic diversification plan, Saudi Arabia is trying to promote SMEs, and to expand its industrial base. Developing "a sophisticated" digital infrastructure has also been identified as a critical area in supporting this growth. Among the government's other main technology-related aims were partnering with the private sector to develop IT infrastructure, and supporting local investments in technology.
In spite of its status as the region's largest market, the Kingdom has often played second fiddle to the UAE when it comes to technology, both in terms of how it has been prioritised at a government level, as well as the world's blue chip tech firms' preference to establish regional headquarters in Dubai.
However, whatever can be said about Saudi Arabia's activity – or lack thereof – in the technology space until now, the Vision Fund commitment is a reminder of the country's huge appetite for investment. It is a clear statement of intent for what its government is willing to do to in its catch-up bid to become a knowledge-based economy, one that soon won't be able to survive on oil alone.
Megha Kumar, IDC's research director for software and cloud, believes that Saudi Arabia's huge external technology investments are a route one approach to deliver internal results. "The Vision Fund will give Saudi Arabia better access to technology," she says. "Developing the Kingdom's technology prospects organically is expensive, and the fund represents a logical way to get fast access to becoming a knowledge-based economy."
Kumar goes on to add that the Fund's work will provide multi-faceted benefits for Saudi Arabia, chief among them the access the country will gain to cutting-edge technology. "The Vision Fund will invest in AI and robotics, and that just shows you how Saudi Arabia will benefit directly," she says "On the one hand, they can showcase economic diversification from the investments they have made, and on the other, the government has the opportunity to become early technology adopters through its association with the Fund."
Sanjay Ahuja, AGC Networks' vice president for the Middle East and Africa region, believes that the PIF's commitment to the Vision Fund represents an important strategic move that ties in with their overall economic development goals. "Today, Saudi Arabia is in a situation where a lot of its current investments are being channeled into core infrastructure projects such as roads, public transport, electricity and water," he says. "Technology also has an important role to play in this development. However, I believe that it's time for them to leverage their credibility and rating in the market and raise funds externally to diversify their investment in technology. This will complement their investments in infrastructure."
Ahuja adds that all infrastructure and technology projects have a symbiotic relationship, and one that can no longer be neglected in the Kingdom. "Today, technology is the backbone of any country's developments," he says. "With digital adoption across industries like finance, e-government, manufacturing, retail, education and healthcare, it is inevitable that Saudi Arabia can't ignore the necessity of these investments."
There is no shortage in the Kingdom's appetite for investment in the infrastructure projects that Ahuja mentions. The development of new manufacturing facilities and the enhancement of oil and gas plants has been prioritised, while ambitious developments such as Jubail Industrial City, and King Abdullah Economic City, continue, even if they have had mixed success to date. On the transport front, the country is making huge strides, with mega rail and transport projects such as the Riyadh Light Rail Network, Jeddah Light Rail Transit system and Makkah Mass Rail Transit all pressing ahead to achieve geographical and physical connectivity.
While these projects represent internal development on the physical infrastructure front, the same cannot always be found for IT. Although the investment into the Vision Fund may represent a bold step in the right direction, many will be concerned that more needs to be done on home turf to ensure that the right conditions are created to develop a technology-driven society. As with the rest of the Middle East, Saudi Arabia must face the reality that the requisite skills and technology infrastructure needed to meet its bold aims are lacking.
Kumar believes that fresh approaches may be needed to usher in a new era of change. "Skills are a big challenge for the Kingdom," she says. "There is also the need to innovate and experiment with technology, given the country's optimised ICT budgets."
Ahmed Al-Faifi, SAP's managing director for Saudi Arabia, Bahrain and Yemen, believes that Saudi Vision 2030, combined with the larger tech players' increased appetite to increase their operations in the Kingdom, is gradually beginning to yield results. SAP recently announced plans to launch a public cloud data centre, co-innovation centre and local developer platform in Saudi Arabia, however, Al-Faifi believes that the country has previously fallen short in delivering these facilities. "Over the past year, one of the biggest inhibitors to Saudi digital transformation has been the lack of technology vendors with local data centres, especially for public sector organisations to store and analyse data in-country," he says. "Saudi Arabia's massive technology investment is testament to how Saudi Vision 2030's goals of nationwide digital transformation can optimise costs, enable innovation, and transform the customer and citizen experience."
Al-Faifi also believes that the enthusiasm generated by the government's announcements has bred a genuine belief that progress can be delivered through technology growth in the country, and that promising signs are on the horizon in fulfilling Saudi Arabia's mandate for the near future. "Saudi Vision 2030 and strong Saudi support for startups show that internal technology development is accelerating rapidly," he says.