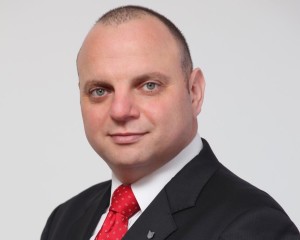 Canon's Marketing Manager, Ayman Aly, discusses opportunities in the large-format printing space and explains the firm's channel strategy in the region.
With Middle East IT spending expected to exceed $32 billion this year, the region is an important one for many players. Eager to be a part of this growth story, companies such as Canon have identified potential areas such as large format printing where business can be further enhanced. And seeing that 20 percent growth of its business has come from multifunction printers in the region, the company is positive of the business environment.
Participating at the three-day exhibition, Sign & Graphics Imaging Show, which concluded recently, Canon showcased an extensive portfolio of products and solutions using wide format technologies and aims at consolidating its presence in this segment of the print industry. Looking to reinforce its market share, particularly in the MENA region, the company had opened its first business solutions showroom more than a year ago in the country. It has recently completed the full integration with Oce, a leader in digital document management and printing equipment, which it acquired about two years ago.
Ayman Aly, Marketing Manager, Canon believes wide format printing, being an emerging technology, has great opportunities in the Middle East market. "This is because it is a growing market and most of the marketing that is done for the festivals and promotions held in the region is done through wide-format printing, whether it is billboards, outdoors or indoors. And OCE is a market leader in wide format printing, helping us enhance our business further," he explains.
For the company, large format business is handled through its resellers, making them an important focus area. "We have good experience handling resellers, either from a retail point of view or business-to-business perspective. We have also recently launched our partner programme." The programme is designed to improve the company's channel network so that it can offer better benefits and enjoy a more developed system. "This also helps to educate the market better and offer our products in the right way to the market," adds Aly.
Through its tier one partners, Canon assists its resellers to have a strong marketing strategy and helps them financially for marketing campaigns as well as implementing them. Aly further says, "Apart from this, we have training programmes for their staff to be able to improve the business. Our staff in the region follows up with them on how to enhance and grow the business."
"Our approach to the channel is to help them improve their profitability and to differentiate themselves. Also, help them to propose Canon products in the best way possible in order to increase their business and market share and be more competitive from price, technology and product offering point of view. This is one of the most critical issues for the channel at this point. And this is one of the areas we are trying to develop in order to help resellers and channels to succeed," concludes Aly.