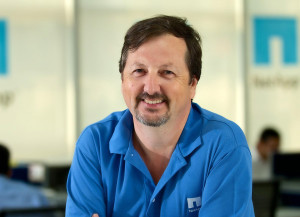 Graham Porter, MENA Channel Manager, NetApp, explains how the company plans to enhance market visibility by working closely with partners.
The storage and data management vendor, NetApp's primary objective is to increase market penetration within the region and deliver solutions that ease customer's challenges. And being a 100 percent channel-driven company, the vendor depends on their channel partners to reach out to regional customers.
Graham Porter, MENA Channel Manager, NetApp, says, "We don't have a concept of tier-one partners who buy directly from the vendor. All our business in this region is through our distributors. It is a two-tier model and it works well."
Working with distributor partners Aptec- an Ingram Micro company and Logicom, the vendor has a wide reach throughout the region.
"The best part about Logicom and Aptec is that they are both Cisco distributors. When we think of Flexpod, we believe half the market is going towards the converged stack, therefore we need partners and distributors who sell NetApp and Cisco together."
Developed by NetApp and Cisco, FlexPod is a converged infrastructure solution, which delivers prevalidated storage, networking and server technologies and enhances IT responsiveness to business requirements optimally.
"Many customers have struggled to size the server, networking, OS and storage portion and make them all work together for a particular application," adds Porter. "This is why customers are buying a converged stack that vendors develop together. So we work with Cisco and build the offering together. We help size, scale and guarantee that it will work. As a result converged stack is growing about 50 percent year-on-year worldwide. Customers here are increasingly considering it as an option because they believe it works."
There are quite a few things that have it going for the company in the region. First is that customers are increasingly looking at the brand as an alternative to EMC. Although the company is playing catching up in the region, it is investing heavily in marketing.
"This was part of the reason why we participated at GITEX this year; customers want to see and have conversations with us. It is about the company's credibility and commitment to the region. Customers and partners want to know that we are growing," he adds.
Next is that regional customers are demanding for storage solutions and with its FlexPod offering, the company is at an advantage. Along with storage, regional enterprises also require flash solutions and are paying more attention to their security infrastructure.
He says, "From a channel perspective, partners will start focusing on CCTV deals more because now these kind of deals are of hundreds of thousands of dollars. They can sell cameras, software and servers. They can also sell FlexPods. We also have many partners who want to sell private cloud."
As partners begin to offer cloud solutions and managed services, security concerns around where the data resides and bandwidth are some key issues to tackle.
NetApp invests significantly into R&D, which it considers to be a key market differentiator.
Porter says, "We have large R&D budgets and this is important as it gives us room to differentiate. We are giving our partners great quality products, that are new and growing in the market and which the customer accepts and wants."
He further says that the challenge most vendors have in this region is that they have too many partners.
"They are managing it as direct sale and as a result they are incurring the cost and need to keep more of the margins for themselves. We try to segment the market, get partners to work in different areas with different customers and we ensure that our partners are making a better margin.
"We have talked to a number of our partners and they say that with NetApp they are going to make a lot more upfront and significantly more margin, so it is a lot more attractive. We train our larger partners to do services. We do have service personnel of our own, but we prefer to go with the partner."
He adds that partners have realised that the reason to sell software and hardware is because there are services around it.
"This is where the money is," he says. "You get an annual revenue around it. We have helped a number of our partners and carried out extensive training for them. A year ago we had about 10 large partners in the region, we have grown that to about 30 now. We have also enhanced their certification levels by bringing on board people who focus on partner development."
Porter urges partners to develop a clear market differentiator and have a distinct value-add in order to be profitable and successful in this region.