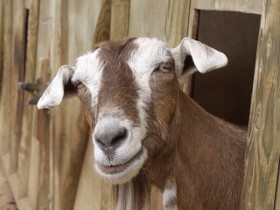 Mike Stiles, Senior Content Manager, Oracle, on how to measure social return on investment. 
You know the screaming goat meme, right? It's where a goat will pop up in a video with a hair-raising bleat and jarringly interrupt whatever was happening in the video. Well that's social ROI. Despite all the cool advancements and opportunities social keeps bringing to marketers, ROI keeps popping up. Baaaaaa!
It's understandable. A CEO can listen all day long to the litany of amazing things social can do and still likely wrap the meeting up with, "Yeah, but…" For them, it all boils down to a need to determine if all this is doing them any good. The Fournaise Marketing Group found out 73 percent of CEOs think marketers lack business credibility because they aren't focused on tangible value.
We who are intuitive about social know the corporate world has been turned on its head, as has marketing, CRM and CX. We know the customer is in charge. We know we can't control the message 100 percent anymore. We know we can't just push our ads, we have to listen. We know we have to give customers content of real value. We know that great products and service and trust in the brand gets you the kind of highly effective customer evangelism that leads to more customers, lifelong loyalty, and sales.
Baaaaaaaa!
That's not good enough for the screaming social ROI goat. They want you to prove that your tweet directly led to the sale of a widget. Here's what you tell them:
Social ROI alone might forever be too elusive to fully calm the restless CEO. But the coming Social Enabled Enterprise ROI can. It's more than tweeting, posting or putting up that video you hope will go viral, it's holistically integrated big data (including social data) that gathers intelligence, analyses it and uses it to conduct precision targeting on your most likely prospects. It's marketing automation bringing paid, owned and earned together. It's marketing that shifts from screaming in the dark to solving problems for customers with whom you have a relationship. Even the loudest goat can connect improved efficiencies to ROI.
With social, there's a virtual parade of disparate ROI's, including financial, prospect engagement, search engine ranking, brand reputation, thought leadership, and competitive edge. Hypatia Research shows nearly 13 percent of companies don't measure social ROI at all, possibly because they assume there is none or regard it as too fuzzy.
Baaaaaaa!
Tell your goat to quit munching on tin cans and get a social relationship management platform that lets you attract the public, listen to what they're saying about how you could get them to love you more and buy more from you, analyse the effectiveness your communications, monitor so you can react to issues with blinding speed and tear down barriers to sales, and integrate with existing CRM systems so all data works hand-in-hand and isn't wasted. The holistic, socially enabled enterprise of the future operates knowing ROI is now about value and efficiencies, which in turn converts to profits.